Rockstar Games Confirms GTA VI Footage Leak
Game Footage and Data Leaked in One of Gaming's Biggest Security Breaches
LAST UPDATED ON
SEPTEMBER 20, 2022
Take-Two Interactive-owned company, Rockstar Games, confirmed on Monday that the company suffered from a network intrusion, where an illegal third party accessed and distributed footage of the newest game installment in the Grand Theft Auto series.
The user "teapotuberhacker" posted more than 90 videos of an early development version of the game to an online forum. The hacker claims to have been also involved in the recent Uber breach. The videos revealed details such as the location of the game, main characters and other features.
What Happened?
It is reported that a user that goes by the name "teapotuberhacker" has accessed the servers of Rockstar Games and leaked game footage on GTAForums.
We recently suffered a network intrusion in which an unauthorized third party accessed and downloaded confidential information from our systems, including early development footage for the next Grand Theft Auto.
Although the original post has been removed by the forum's moderators, the footage spread rapidly all over the internet. According to BBC, the hacker claimed to have gained access to the data by breaching Rockstar's internal feed on the Slack messaging app and invited executives to negotiate.
Source code, assets, and testing builds from both GTA 5 and GTA 6 could also be revealed, which would be detrimental to the business operations. The footage showed animation tests, gameplay mechanics, and level layouts and it appears to be confirming a long-circulating rumor, that the game will feature the series' first playable female protagonist.
The leaks also indicated that GTA 6 will be set in Vice City, a fictionalized version of Miami that served as the setting for GTA: Vice City, which was released in 2002.
Rockstar Games issued an official statement explaining the situation and how will the leak affect the development of the next GTA game.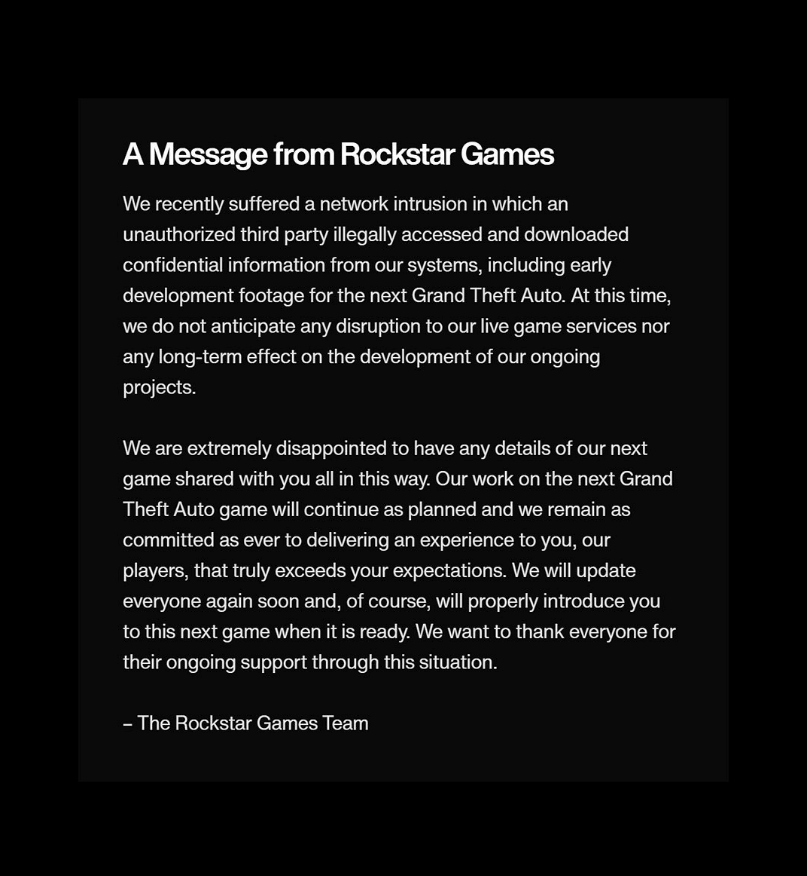 The Official Statement of Rockstar Games (Source: instagram.com/rockstargames)
We are extremely disappointed to have the details of our next game shared with you all in this way.
How Will Rockstar Games and Take-Two Respond?
According to Bloomberg, Take-Two issued requests to Youtube, Twitter, and other websites to remove the videos, citing a copyright claim. GTAForums and the GTA 6 subreddit page were also closed so that the leaked content could be removed. The company claims that the development of the game will not be disturbed by the leak, and that it will continue as planned.
Our work on the next Grand Theft Auto game will continue as planned and we remain as committed as ever to delivering an experience to you, our players, that truly exceeds your expectations.
Rockstar announced that everyone will be updated soon, and that, of course, they will properly introduce the players to their new game when it is ready.
If you liked this article, follow us on LinkedIn, Twitter, Facebook, Youtube, and Instagram for more cybersecurity news and topics.