Opera VPN, VyprVPN Classified as Threats and Banned in Russia
Last Week, Russia's Telecommunications Watchdog, Roskomnadzor, Banned the Use of the Two VPN Services, Classifying Them as Threats.
LAST UPDATED ON
JUNE 22, 2021
The regulatory agency released an official statement saying that the VPN ban in Russia is in accordance with the Decree of the Government of the Russian Federation No. 127 dated February 12, as the country works to respond to services bypassing the restriction of access to illegal content.
In accordance with the regulation on responding to threats to circumvent restrictions on access to child pornography, suicidal, narcotic and other prohibited content, restrictions on the use of VPN services VyprVPN and Opera VPN will be introduced from June 17, 2021.
As a result, VPN services in Russia have been suspended by Opera.
According to a statement by Opera's Senior Public Relations Manager Yulia Sindzelorts, the company is committed to providing an "excellent experience" in browsing to users in Russia. Sindzelorts further added that VPN services have been suspended "in the form it was provided earlier".
Opera endeavors to provide its Russian users with the excellent experience in using browsers. We decided to suspend support for VPN services in our browsers on the Russian territory in the form it was provided earlier. Opera is already protecting confidentiality of users now, offering protection against tracking, DNS above https and blocking of malicious websites. Opera is ready for an open dialog on user security in the Internet.
After receiving the compliance demands from Roskomnadzor, VyprVPN stated that it "will not cooperate with the Russian government in their efforts to censor VPN services."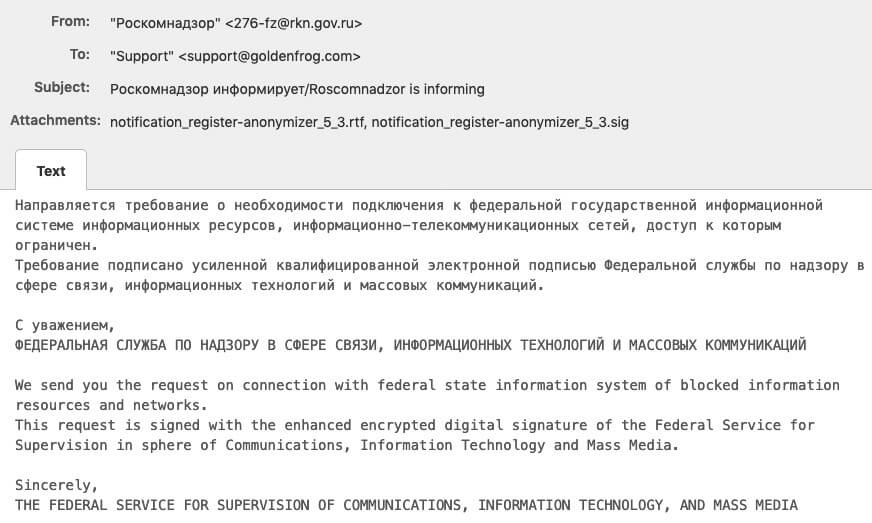 Image Source: VyprVPN
Roskomnadzor stated that these restrictions will not affect the operations of Russian companies that are using VPN services in continuous processes.
The 130 companies that rely on VyprVPN and Opera VPN for their VPN needs will not be subject to the restrictions if they manage to make an appropriate request to be included on a restriction "whitelist", which are currently being invited following an alert by none other than Roskomnadzor itself.
Back in 2020, ProtonMail and ProtonVPN were also banned by the telecommunications watchdog, citing security reasons as they claimed that cybercriminals used them to send bomb threats.
It's worth mentioning that although the bill to ban VPN providers had been signed by President Vladimir Putin as early as 2017, no solid steps were taken in the direction until 2019.