LockBit Ransomware Claims to Have Stolen SpaceX Data from One of Its Contractors
3,000 Drawings Certified by SpaceX Engineers Were Allegedly Leaked.
LAST UPDATED ON
MARCH 15, 2023
After breaching the systems of Maximum Industries, the LockBit ransomware group claims to have stolen sensitive information related to SpaceX.
Maximum Industries is a full-service, piece-part production, and contract manufacturing facility. The company provides CNC machining, laser cutting and waterjet cutting services for the aerospace, architectural, defense, marine, military, medical and mining industries.
The ransomware gang hacked the production firm's systems, which also provides services to SpaceX, and stole its data, which seems to also include files from the American spacecraft manufacturer.
LockBit claims to have stolen approximately 3,000 "drawings certified by space-x engineers.", according to Security Affairs.
I would say we were lucky if SPACE-X contractors were more talkative. But I think this material will find its buyer as soon as possible. Elon Musk we will help you sell your drawings to other manufacturers – build the ship faster and fly away. and now about the numbers: about 3,000 drawings certified by space-x engineers.
Lockbit's message, published on their Tor Leak Site
The gang announced that it will begin the auction in a week.
SpaceX has not responded to Lockbit's claims, but it is important to note that SpaceX was not hacked.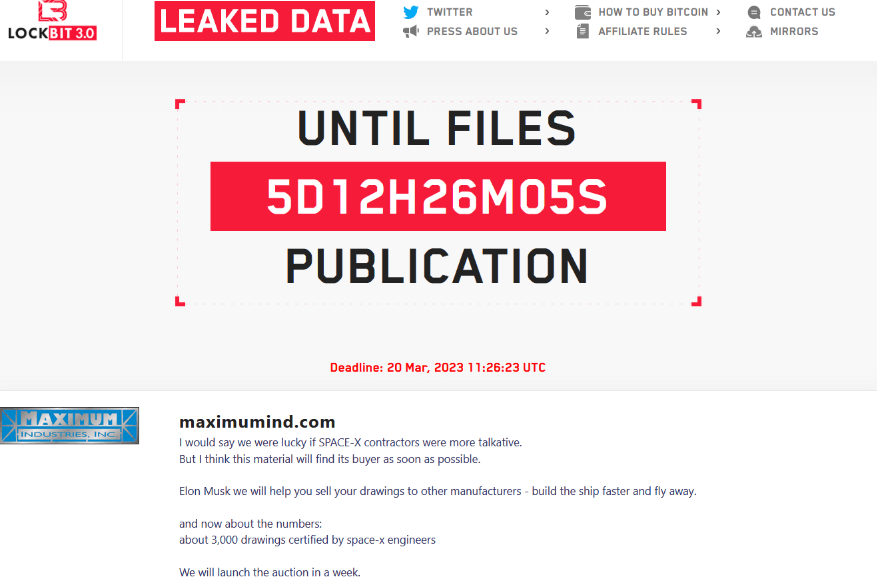 Since 2019, the LockBit ransomware group has been one of the most active in the industry, with more than 600 victims uploaded to their leak site since the beginning of 2023.
If you liked this article, follow us on LinkedIn, Twitter, Facebook, and YouTube for more cybersecurity news and topics.