Introducing our New Security Products, More Powerful and Stronger to Enhance your Online Protection
Meet our fresh security products, always ready to protect your digital assets
LAST UPDATED ON
AUGUST 23, 2018
If you are one of our loyal blog readers, you know we're dedicated to helping people better understand and fight cyber threats, and provide a plethora of educational resources on how to be proactive and keep their data safe.    We are also committed to improving our Heimdal Security products and put all the efforts into providing a seamless customer experience. Our entire team has been working hard to improve our core product and also build a new security layer that complements and strengthens your current setup.
W

e are very excited to introduce our new security suite.

 Heimdal PRO is now called Heimdal™ Threat Prevention Home, featuring 3 key security layers that will shield your computer continuously: 
 

VectorN Detection™ – brings advanced, machine learning-powered detection of hidden malware

 

DarkLayer GUARD™ – adds unique traffic filtering to prevent and block malicious Internet traffic.

 

Heimdal™ Patch & Asset Management​ – provides automated vulnerability management to eliminate security holes in third-party software.

 
Heimdal™ Threat Prevention Home, our rebranded product, offers unique next-gen threat prevention for your computer and can be integrated seamlessly with your existing security solution to enhance online protection. Just as Heimdal PRO has evolved over the past years and secured your data, the new Heimdal™ Threat Prevention Home will also continue to develop its protection capabilities and detect viruses and malware before they reach your computer. Heimdal™ Threat Prevention Home is a proactive, flexible and cost-effective security solution that is committed to secure your digital assets and enhance your endpoint protection. Heimdal FREE  will continue keeping all your applications up to date automatically to improve your online protection. Heimdal CORP, our enterprise product, which proactively secures your company's endpoints and servers, by preventing the unknown and catching the known, is now called Endpoint Security Suite.  It is a powerful and multi-layered security suite that will combat next-gen malware, ransomware, and other enterprise threats that can compromise your endpoints. To benefit from the all-in-one proactive security, you can choose our Endpoint Security Software product. This sleek package includes Heimdal™ Threat Prevention , the next-gen threat prevention combined with our brand-new and incredibly powerful Heimdal™ Next-Gen Antivirus & MDM​, to offer threat prevention and powerful remediation. Heimdal™ Next-Gen Antivirus & MDM​, our upcoming Antivirus product, has a 100% malware detection score and the following remediation capabilities: 
 

Local signature and file-based scanning, that includes both scheduling or on-demand scans

 

Real-time scanning powered by Machine Learning Detection

 

Cloud-scanning for sandbox inspection to detect evolving threats and block them

 

Heuristic and behavior-based scanning to detect code changes and trigger alerts for potentially malicious activity, such as Zero-Day, Advanced Persistent Threats (APTs), and ransomware attacks.

 
Heimdal™ Threat Prevention and Heimdal™ Next-Gen Antivirus & MDM​ together excel at preventing the unknown and catching the known, so you can enjoy enhanced protection in one unique and complete Endpoint Security Software package. Through it, you benefit from a multi-layered security suite that brings next-gen threat prevention based on machine learning combined with a powerful antivirus with a 100% detection rate. This way, you can actually protect your endpoints against ransomware, malware, and other online threats.   Our team is constantly working to improve Heimdal Security products and we know you will love our new line-up. Thank you for relying on us for online security!
The easy way to protect yourself against malware
Here's 1 month of Heimdal™ Threat Prevention Home, on the house!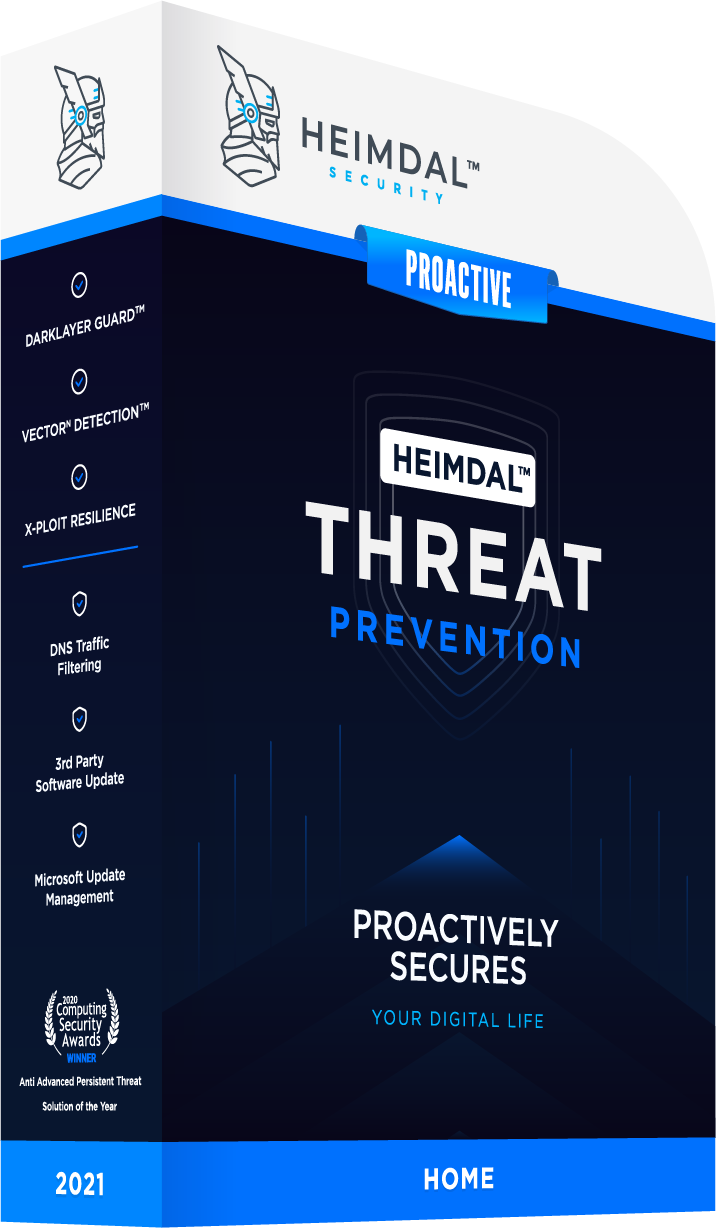 Use it to:
Block malicious websites and servers from infecting your PC
Auto-update your software and close security gaps
Keep your financial and other confidential details safe