Heimdal Security Announces Opening of Its Second Office in the UK
HEIMDAL opens office in Leeds and unveils expansion plans and growth strategy in the region
LAST UPDATED ON
DECEMBER 4, 2020
HeimdalTM Security (HEIMDALTM), a leading global provider of an all-encompassing cybersecurity suite comprising threat prevention, vulnerability management, endpoint detection, PAM, application control, and e-mail security, today announces the opening of a new office in Leeds, United Kingdom. This expansion marks the inauguration of its second office in the UK, enabling HEIMDALTM to continue its evolution as an already emerging market leader in the region. Tied to its spectacular year-over-year advancement, it was only natural for HEIMDALTM to enlarge and strengthen its presence in one of its key markets. The company has taken a step further to growing to one of the biggest Cybersecurity vendors in the UK and ultimately becoming a leader in terms of product line-up and market share.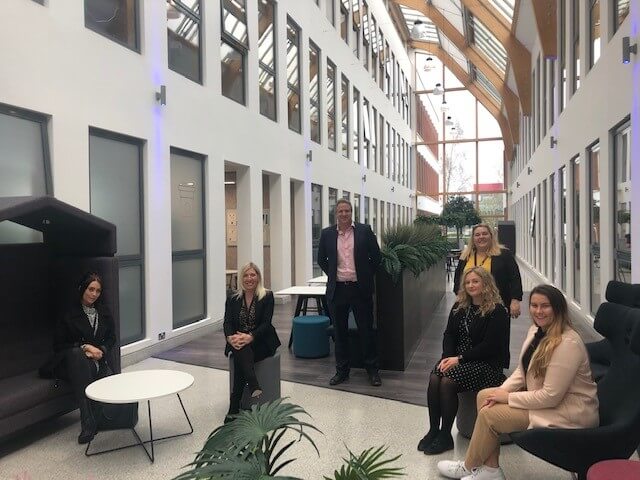 Heimdal Security UK Team Members in Leeds
In reaction to an overwhelming demand for the security vendor's solutions, the push to scale up the team has emerged. Nine employees are already on board in the new office in Leeds and moving forward, 8 to 10 new staff members are planned to join this team per quarter. Despite the far-reaching effects of the Covid-19 pandemic, HEIMDALTM is still making significant progress and continues to offer hiring opportunities, expecting a 300% increase in its total number of UK employees (from 30 staff members currently employed in the UK to 120 until the end of 2021).
"The decision to further expand into the UK sustains the strategy for our continued, steady growth and support into areas that are showing a huge demand for our offering. We aim to continue delivering exceptional products and services at all times for customers who wish to benefit from our unified and intelligent security suite, uniquely position themselves against the ever-evolving cyber aggressions, and properly deal with data security and compliance concerns.", said Morten Kjaersgaard, CEO of HeimdalTM Security.
HEIMDAL's UK Team is headed up by Ruth Schofield, who joined the company earlier this year in September. Ruth came on board with a wealth of knowledge and extensive background working in IT and infosec for over 25 years. In her last role as Managing Director for KnowBe4's UK&I operations, she was responsible for building and driving a team that delivered triple-digit year-over-year growth and helped the company reach its Unicorn status in 2019, valued at $1BN. With her vast experience and previous background in an Inc 500 organization, Ruth has worked with some of the industry's greatest professionals and has proven to be a key player in the cybersecurity community and UK market. Therefore, she is definitely the right person to continue building on HEIMDALTM's success and drive its strategic vision forward.
"The opening of the Leeds office signals our commitment to being a principal and reliable cybersecurity provider in the UK region", said Ruth Schofield, Country Manager UK&I. "With its unparalleled product offering, HEIMDALTM is prepared to accelerate its remarkable growth as it scales up the UK sales team and market expansion.", added Ruth Schofield.
Paving the way to stronger partnerships
On the grounds of its current expansion, HEIMDALTM is contended to be in close proximity to its long-standing partner Brigantia, an award-winning, value-added managed services distributor that provides a comprehensive range of cybersecurity solutions. This move enables both parties to foster their mutually beneficial collaboration and better address and cover market gaps.