Giant Canadian Food Retailer Sobeys: A Victim of Ransomware?
Employees and Internauts Talk About An Ongoing Cyber Incident.
LAST UPDATED ON
NOVEMBER 14, 2022
Sobeys, a major grocery retailer in Canada, published an official statement announcing it has been affected by a technical issue traced back to the IT systems.
Sobeys is a subsidiary of the parent company Empire Company Limited, headquartered in Nova Scotia, Canada, with over 130,000 employees and annual sales of $30.5 billion. Sobeys has a network of 1,500 stores under various retail names throughout all ten Canadian provinces, including Sobeys, IGA, Safeway, FreshCo, Foodland, Lawton Drugs and Thrifty Foods.
The Company's grocery stores remain open to serve customers and are not experiencing significant disruptions at this time. However, some in-store services are functioning intermittently or with a delay. (…) In addition, certain of the Company's pharmacies are experiencing technical difficulties in fulfilling prescriptions.
Extract from Empire Company Limited's Statement
In a different statement, published on Sobeys' official website, however, it was noted that all stores were open and they are not experiencing any substantial disruptions:
Our stores are currently experiencing systems issues that are affecting some of the services offered. All our stores remain open to serve you and are not experiencing significant disruptions at this time. While some in-store services are functioning intermittently or with a delay, we are pleased to note that our pharmacy network is now able to operate fully.
Employees Tell A Different Story
Employee reports disclosed by Bleeping Computer tell a different story. It seems that all computers in affected Sobeys stores were locked out, but that POS and payment processing systems remained up and functional since they operate on a separate network.
Internauts also argue on a Reddit post that all signs point to a ransomware attack, even though the company has not yet released an official statement confirming it: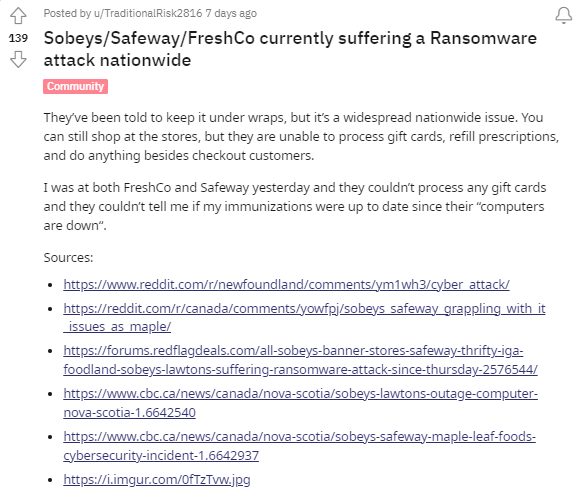 Moreover, pictures of Sobeys's in-store computers displaying a Black Basta ransom message have been posted online by staff members. Multiple sources have told Bleeping Computer that the attack took place on Friday night or Saturday morning, on November 7th.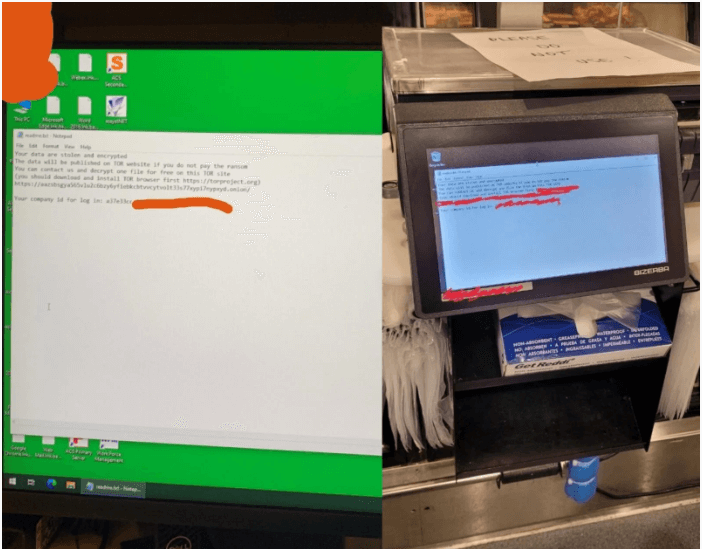 Canadian provincial privacy watchdogs from Quebec and Alberta confirmed receiving "confidentiality incident" notices from the shop, according to local media. The Quebec watchdog has confirmed to The Canadian Press that such notifications are only issued if a data breach has resulted in the exposure of personally identifiable information.
If you liked this article, follow us on LinkedIn, Twitter, Facebook, Youtube, and Instagram for more cybersecurity news and topics.