DoubleVPN Servers, Logs, and Account Info Seized by Law Enforcement Agencies
The Servers and Customer Logs for DoubleVPN, a Double-Encryption Service Used by Threat Actors Were Recently Seized.
LAST UPDATED ON
JUNE 30, 2021
It seems that law enforcement agencies have seized the servers and customer logs for DoubleVPN, a double-encryption service commonly used by threat actors to evade detection while performing malicious activities.
DoubleVPN is a Russian-based VPN service specialized in the double-encryption of the data sent through their service.
DoubleVPN works by encrypting the requests when using the service and transmitting them to one VPN server, which sends them to another VPN server and eventually connecting them to the final destination.

Why Is the Double VPN Technology Preferred by Hackers?
Double VPN represents a feature that allows for the use of not one but two VPN servers. By using this type of multi-hop connection and double encryption users can add an extra layer of security to their IP address.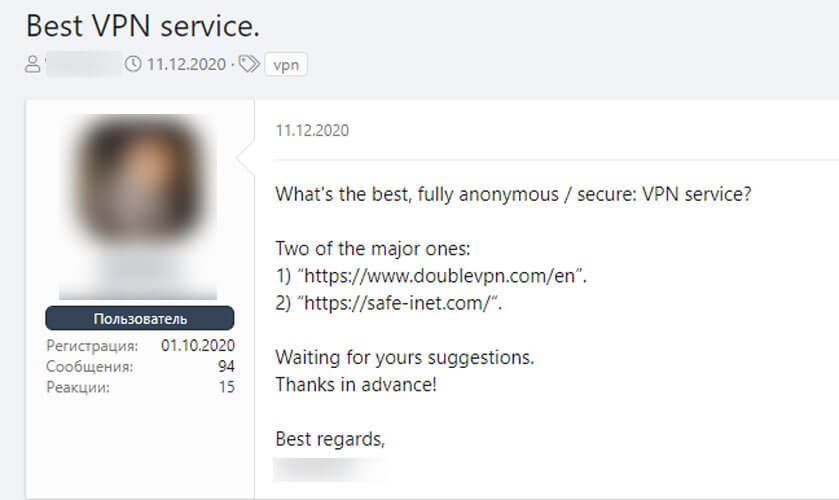 The threat actors are commonly using this type of service in order to obfuscate their locations and IP addresses when performing cyberattacks.
What Happened?
The doublevpn.com website got seized today by law enforcement.
On the 29th of June 2021, law enforcement took down DoubleVPN. Law enforcement gained access to the servers of DoubleVPN and seized personal information, logs, and statistics kept by DoubleVPN about all of its customers. DoubleVPN's owners failed to provide the services they promised.

International law enforcement continues to work collectively against facilitators of cybercrime, wherever and however it is committed. The investigation regarding customer data of this network will continue.
At the time we are reporting this event Europol has confirmed for the news publication BleepingComputer that the seizure message is legitimate and that they will be providing more information about the operation in the following days.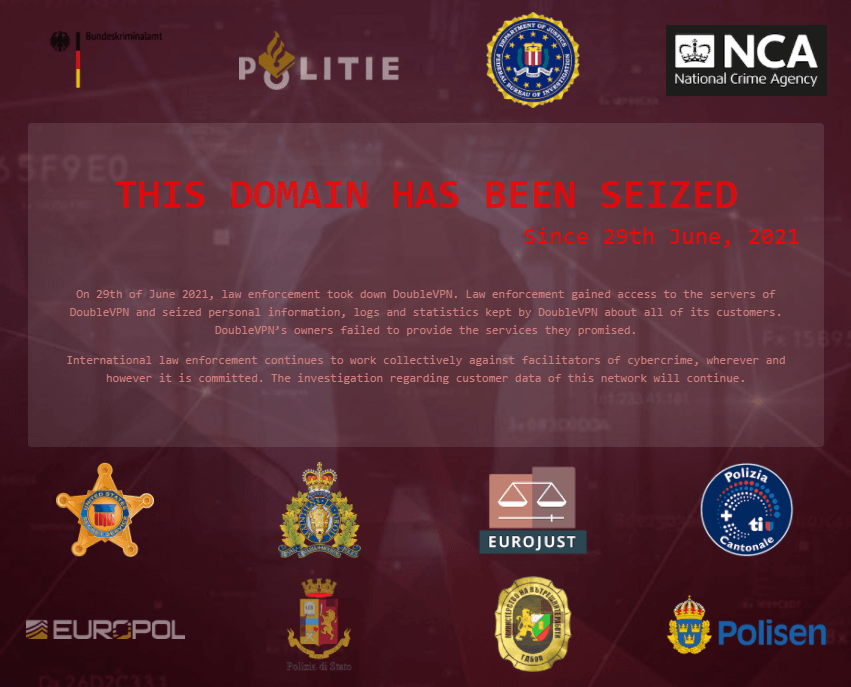 No further information is available at this time, but according to the splash screen the operation was conducted by Germany's BKA, Netherland's Politie, the FBI, the UK National Crime Agency, the United States Secret Service, the Royal Canadian Mounted Police, Eurojust, Switzerland's Polizia Cantonale, Europol, Bulgaria's GDBOP, and the Swedish National Police.