10+ Chrome Extensions to Boost Your Online Safety in 2021
Ad Blockers, Password Managers, VPNs, and everything else you need to know about
LAST UPDATED ON
APRIL 18, 2019
Chrome is the most popular internet browser nowadays, so we've decided to research extensions that increase your online safety. Even though it claims to automatically protect you from security issues, such as phishing attacks and dangerous websites, as the online threatscape evolves, it never hurts to add extra layers of protection.

Web Browser Market Share, March 2019, according to W3Counter
In this guide, we'll walk you through a variety of Chrome extensions, ranging from anti-tracking solutions, ad blockers, password managers, and VPN solutions, to name a few.
We hand-picked the add-ons from a wide palette of solutions, with the intention to help you browse safely on the internet.
So let's jump in.
Here are some of the best privacy and safety-related Chrome extensions.
1. Privacy Badger
Privacy Badger is a browser add-on developed by The Electronic Frontier Foundation (EFF), that blocks advertisers and third-party trackers from tracking the web pages you visit. Essentially, whenever it detects advertisers who track you across different websites without your consent, it automatically stops them from inserting any more content into your browser.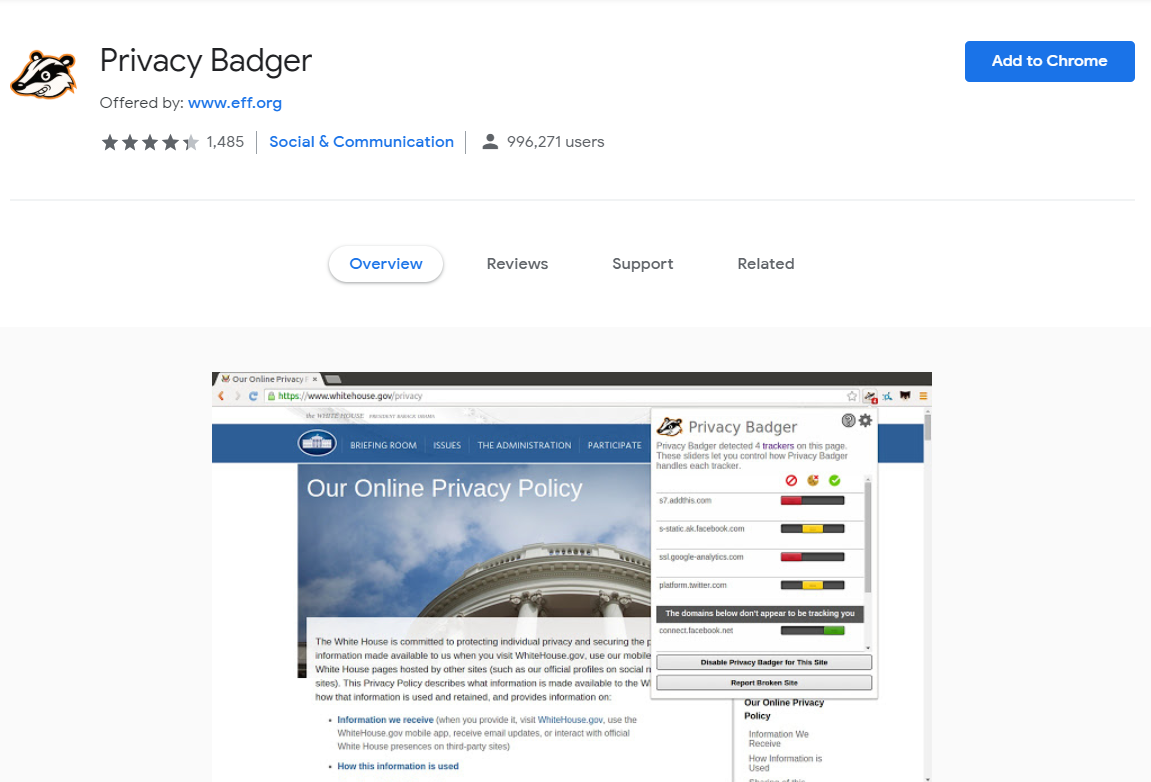 Keep in mind this isn't a standard ad-blocker, as it wasn't created with the intention to completely block ads.
What it really does is focus on stopping any visible or invisible third-party scripts or images that seem to be tracking your activity despite the fact that you specifically refused to be tracked by sending a Do Not Track header. Most of these third-party trackers happen to be advertisements, so that's why most of them will be blocked.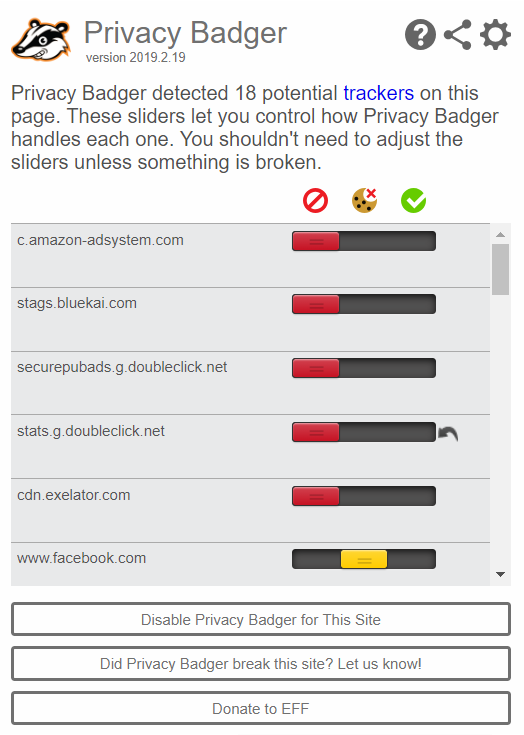 Does it make sense to simultaneously use Privacy Badger and a standard adblocker? If you really despise ads, EFF advises on using a combination between Privacy Badger and uBlock Origin.
Download: Privacy Badger
2. Ghostery
Ghostery is similar to Privacy Badger – it detects and blocks third-party technologies which track you and it also markets itself as an ad blocker. Thus, it provides a clean and fast browsing experience, while preventing advertisers from tracking your activity.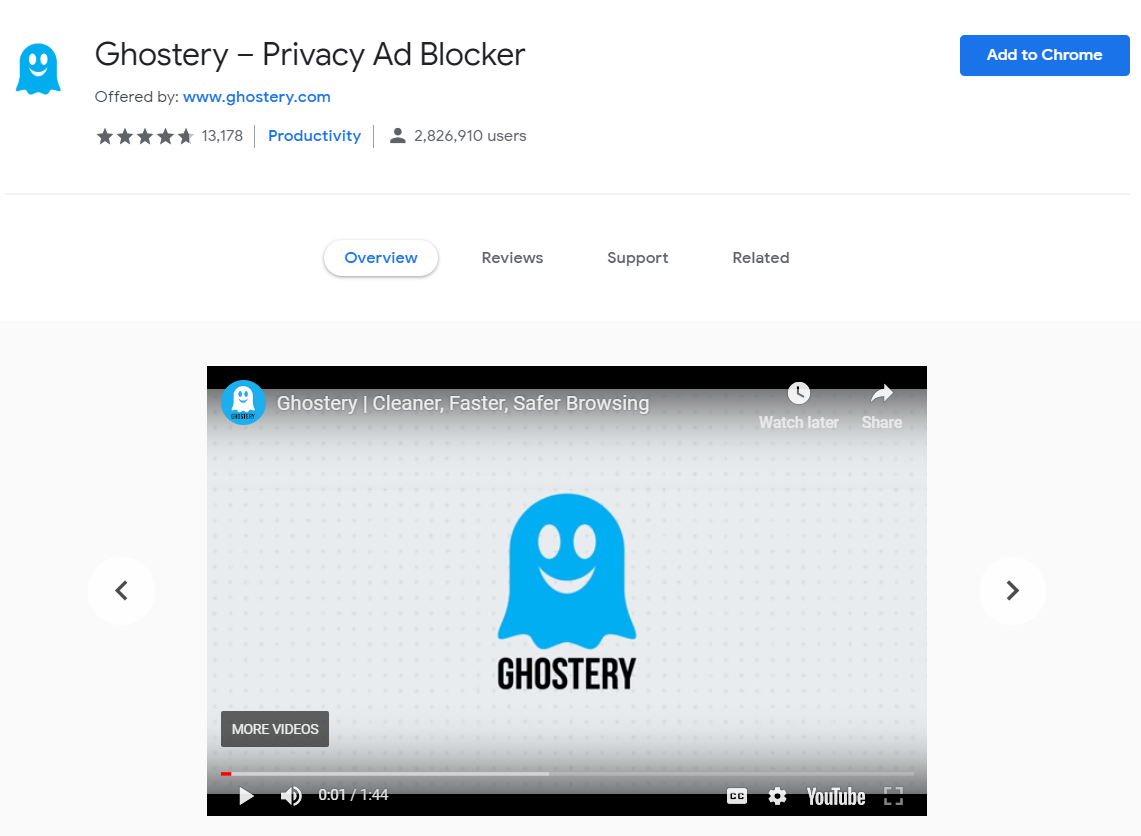 The Smart Blocking feature increases the pages' loading speed, by automatically blocking and unblocking trackers.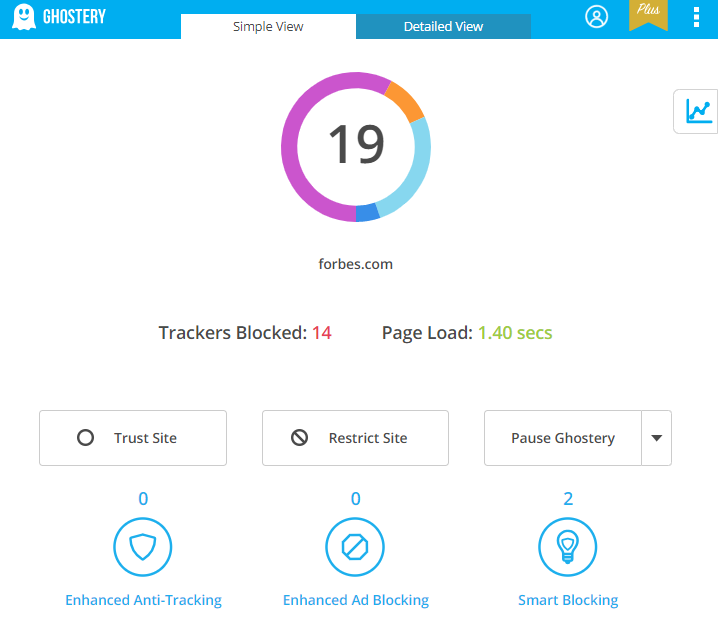 Download: Ghostery
3. HTTPS Everywhere
HTTPS Everywhere is an add-on created by the Electronic Frontier Foundation (EFF) and the Tor Project, that changes websites from insecure "HTTP" to secure "HTTPS".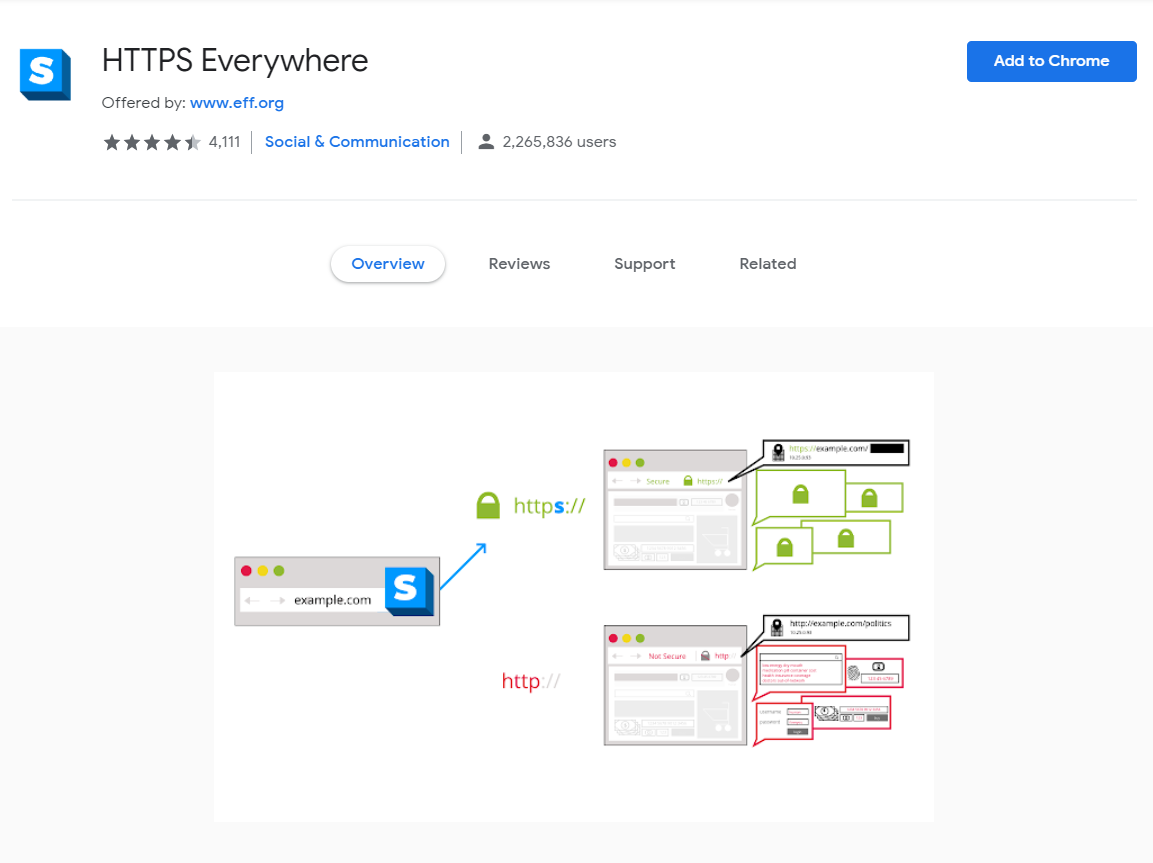 Why use "HTTPS" instead of "HTTP?"
"HTTP" is not encrypted and can be vulnerable to threats, such as man-in-the-middle attacks. HTTPS should be used especially on insecure networks (such as public Wi-Fi), as these are most likely to be accessed by people on the same network who can steal your private information.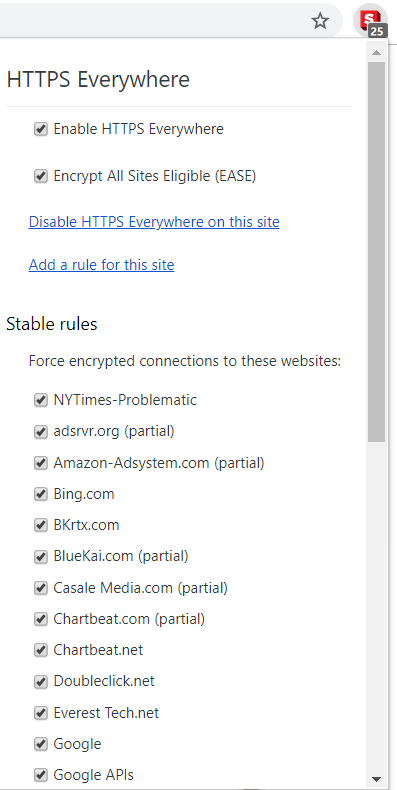 Many websites do offer some support for encryption over HTTPS, but they make it difficult to use. For example, they can link unencrypted sites to encrypted pages.
HTTPS Everywhere takes care of those issues by rewriting requests to these sites to HTTPS.
Here you can access information about the project's Git repository and also get involved in development if you are interested to do that.
Download: HTTPS Everywhere
4. LastPass
LastPass is a password manager which stores all of your passwords so you don't have to remember them.
Using the same password for all your accounts is the worst thing you can do, so LastPass will contribute to your overall security hygiene.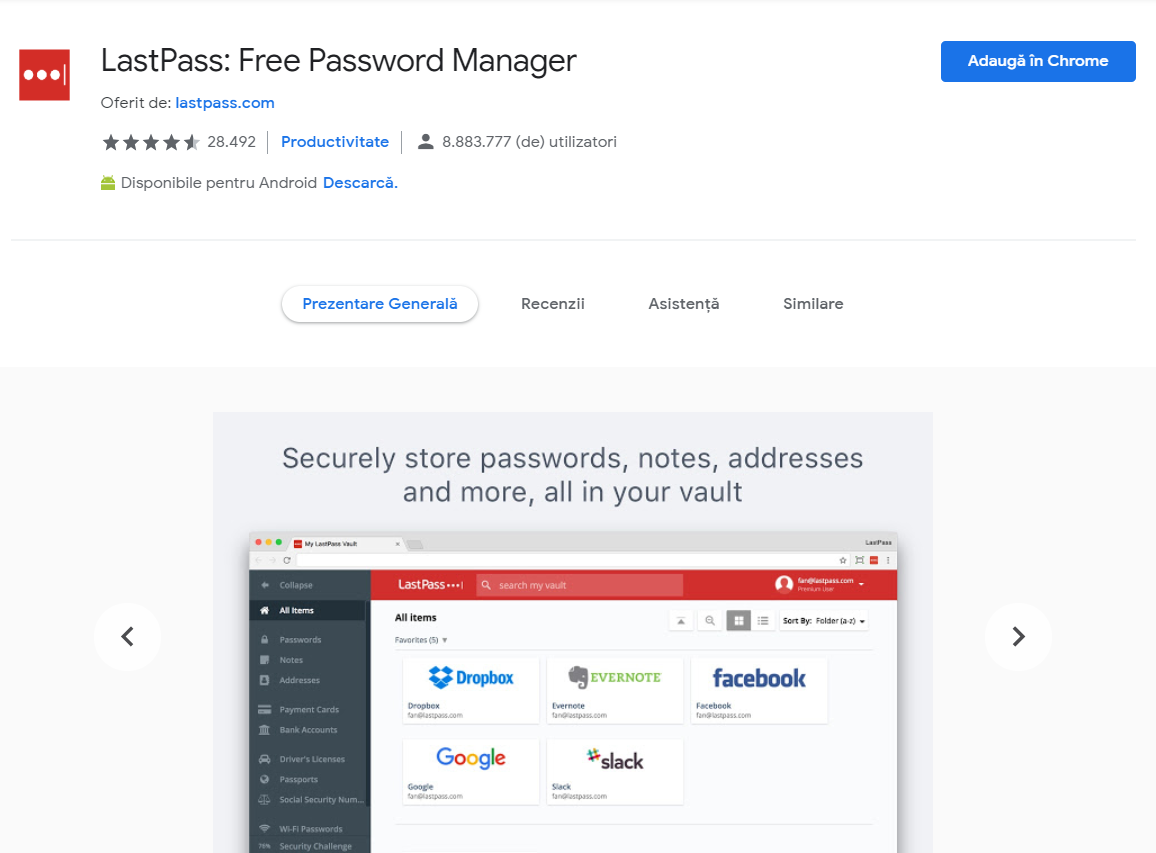 What you do need to remember is the master password used to guard the rest of your passwords. This tool uses strong encryption algorithms, so even the folks from LastPass don't have access to your data.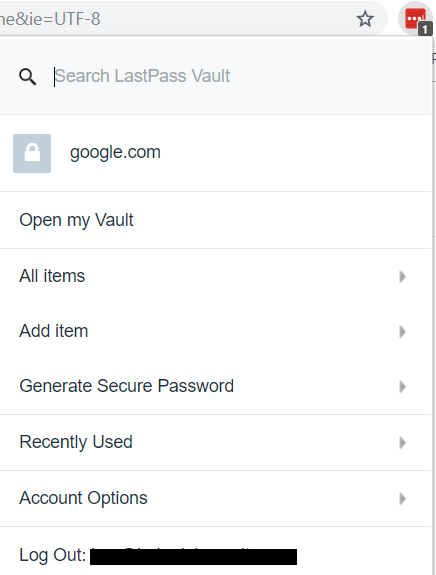 It integrates with a variety of two-factor authentication options so you can protect yourself with an extra layer of security. You should really turn on this feature just in case someone manages to steal your master password, and this way they can be stopped from accessing your account.
Download: LastPass 
5. Vanilla Cookie Manager
Vanilla Cookie Manager is an extension that allows you to delete unwanted cookies. It gives you the option to shut off cookies completely or just remove third-party cookies.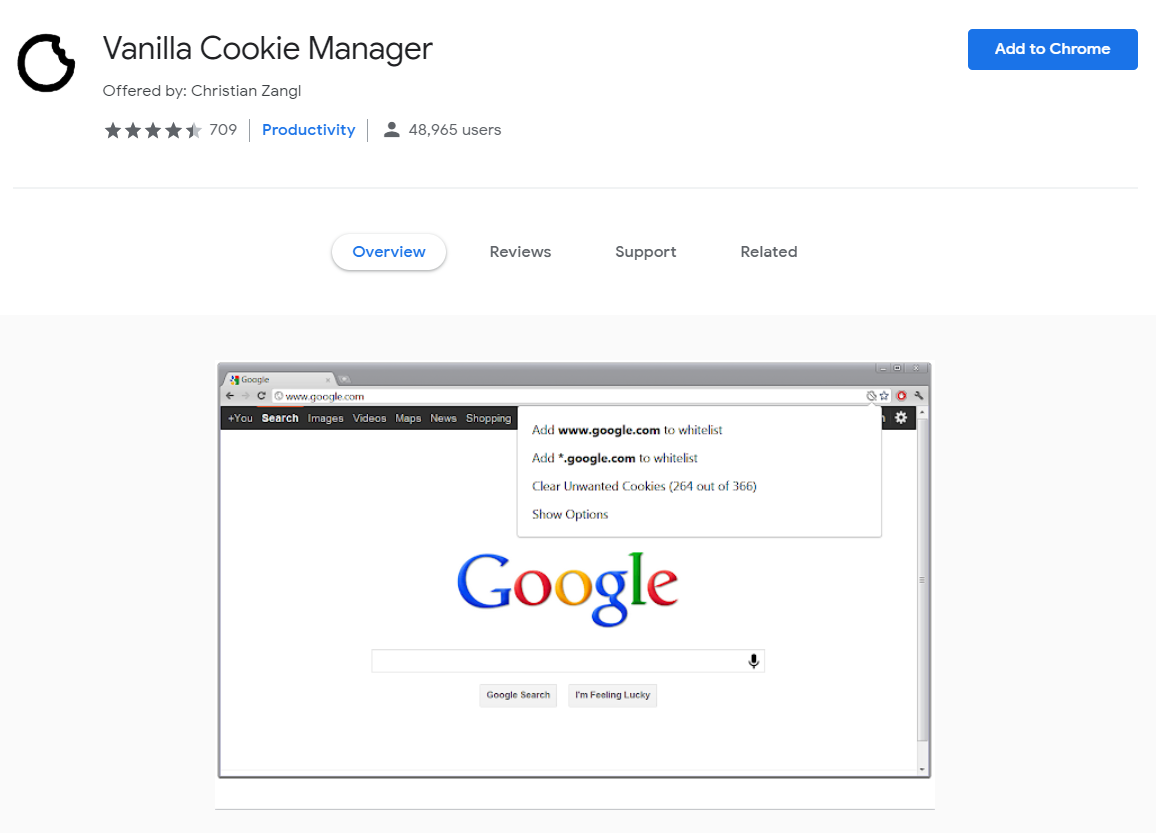 Vanilla Cookie Manager allows you to whitelist the cookies that you would like to keep from websites trusted by you.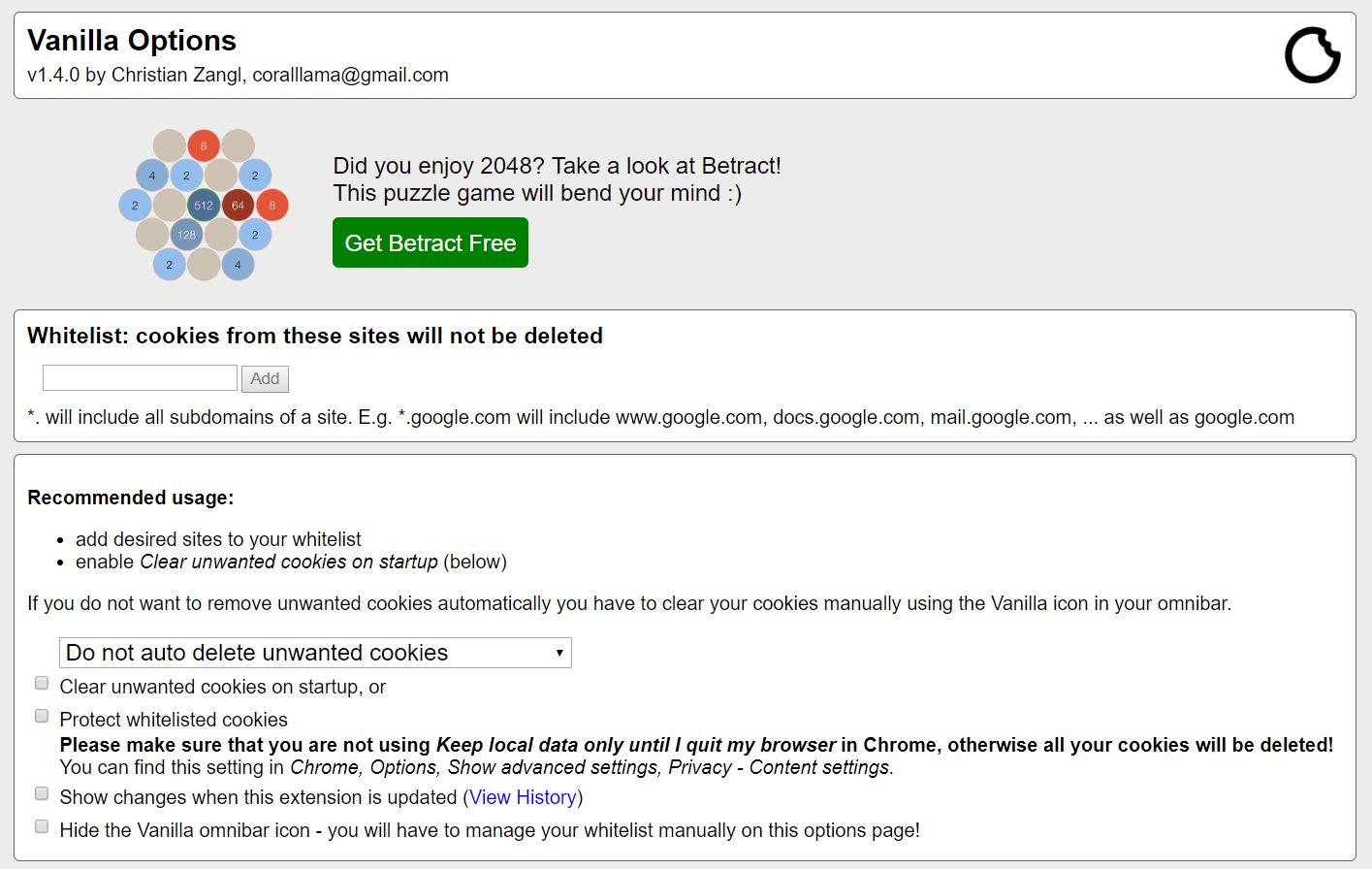 Does it make sense to manage cookies?
Let's start off by briefly explaining what they are and what they do.
Cookies are text strings stored on your computer in a directory. They are harmless, in the sense that they can't infect your PC with malware. Yet, they can store information about your activity on websites.
So how do cookies work?
Webservers transmit cookies that are stored in your browser, and the next time a page is referenced, the browser returns the cookie to the server.
Obviously, it's your choice if you want to alter cookies. Some users prefer to browse the internet without concerning too much about their information being collected, while others prefer to remain completely anonymous.
Download: Vanilla Cookie Manager
6. Perspective Guard
The Perspective Guard extension is based on a rather unique concept running on artificial intelligence, and its main purpose is to let you know if you might come across fake news.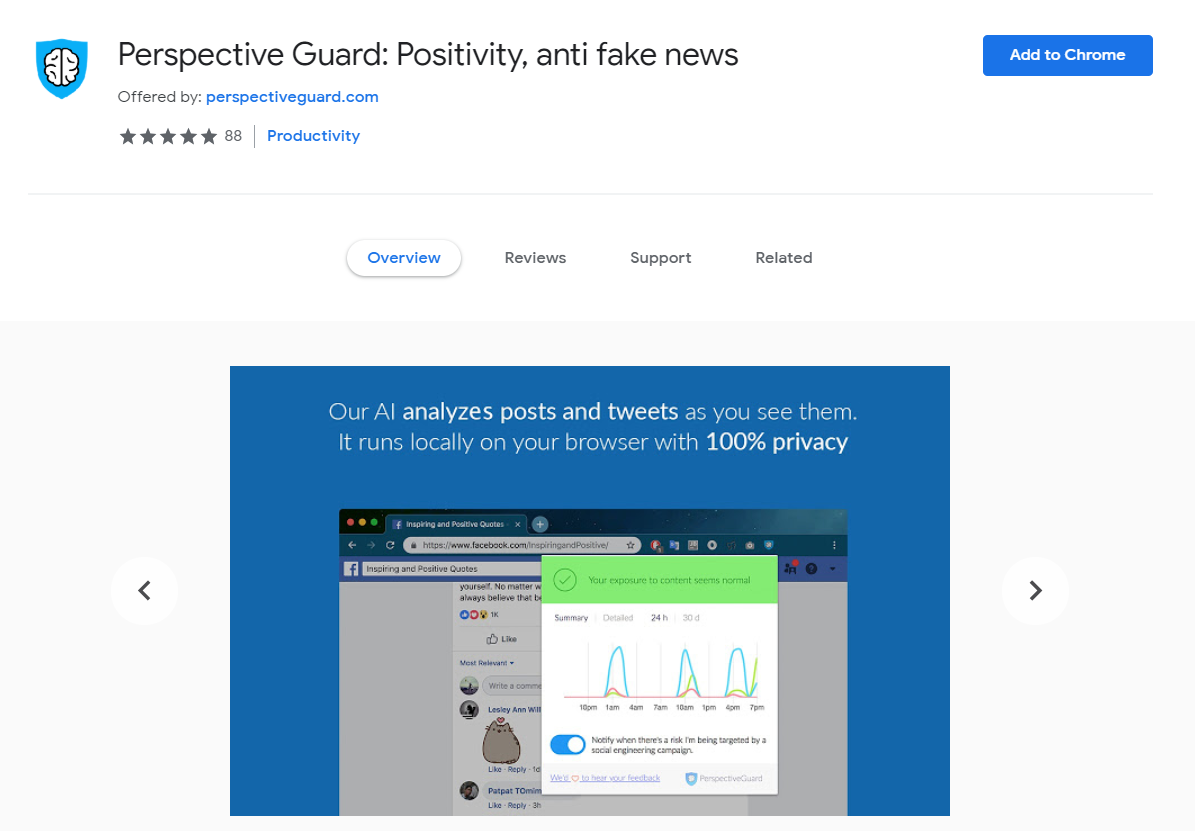 Its developers promise not to store your data so you can rest assured you are browsing the internet privately.
What it does is monitor the social networks and websites you access and gives you an overview of the type of content you encounter.
The content you see is classified as Negative, Neutral, or Positive.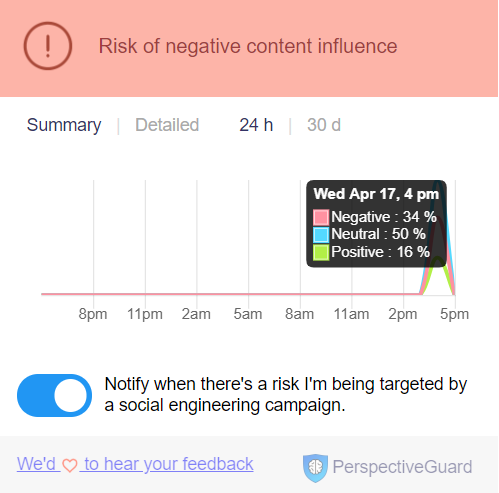 You also have the option to be notified if you are likely to become a victim of social engineering campaigns.
Download: Perspective Guard
7. minerBlock
minerBlock is an add-on used against those malicious hackers who try to steal your computer processing power to mine cryptocurrency without your consent.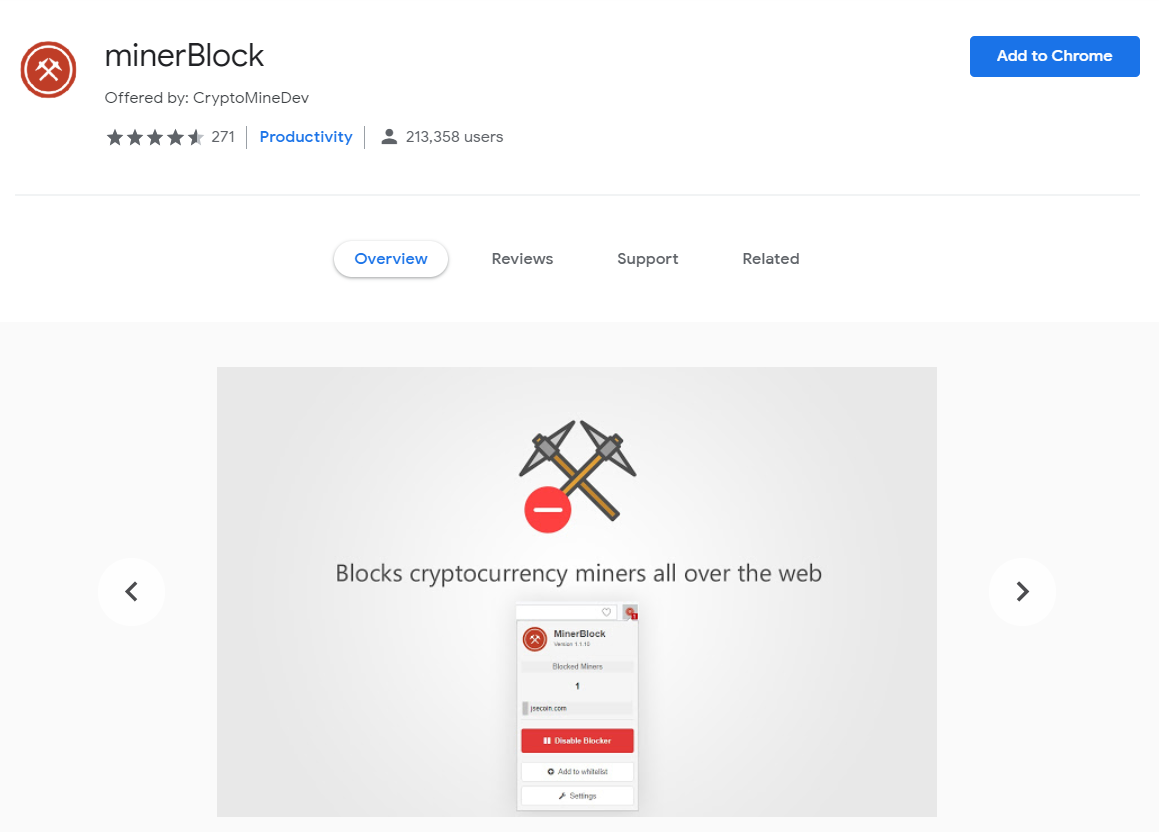 This technique is called "crypto jacking", short for "cryptocurrency hijacking". For a full overview of the concept and a guide on how to avoid becoming a victim, access our article.
How does the minerBlock extension work?
It uses two different ways to stop crypto miners: by blocking requests/scripts loaded from a blacklist, and by detecting suspicious behavior inside loaded scripts and deleting them right away.
Download: minerBlock
8. uBlock Origin
For all of you out there who simply don't want to see any ads, uBlock Origin is a great Chrome extension to help you block them all.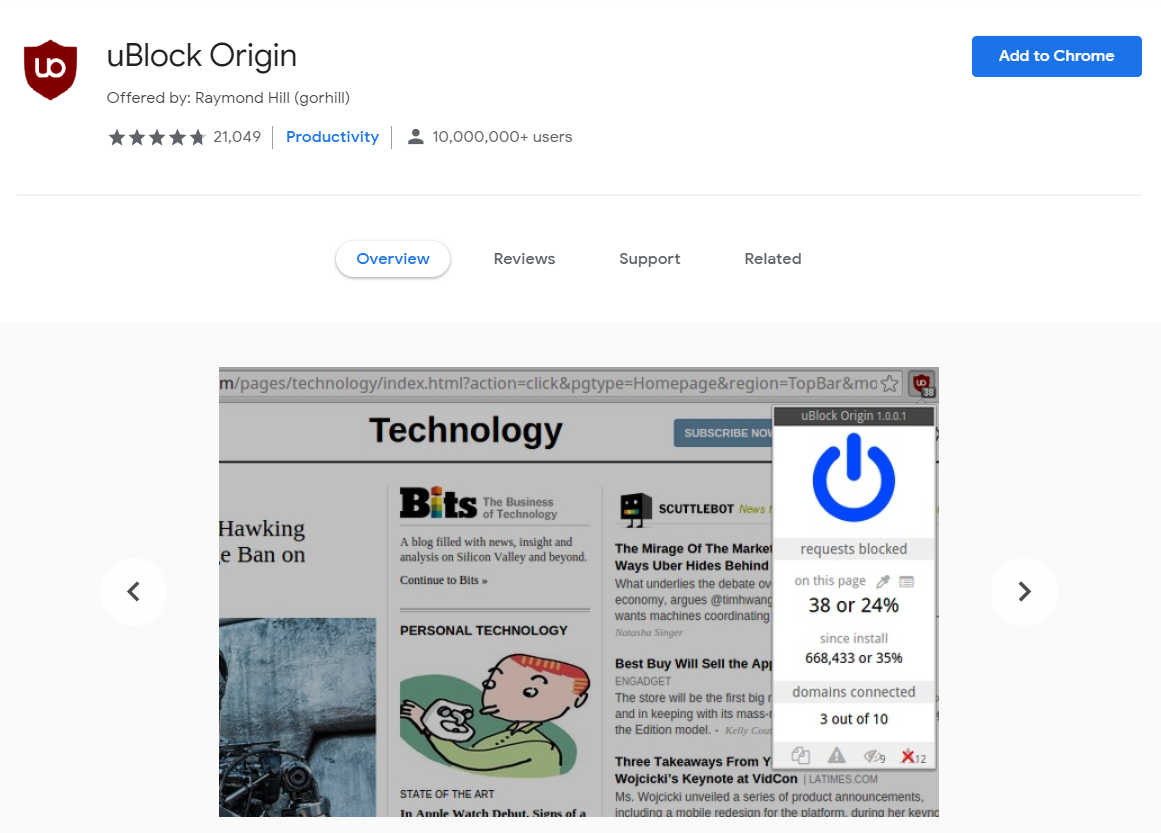 This adblocker also seems to be the easiest on CPU and memory, as per their comparison below: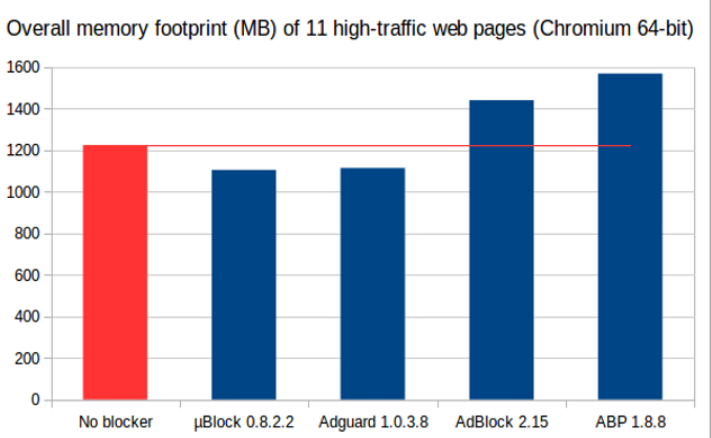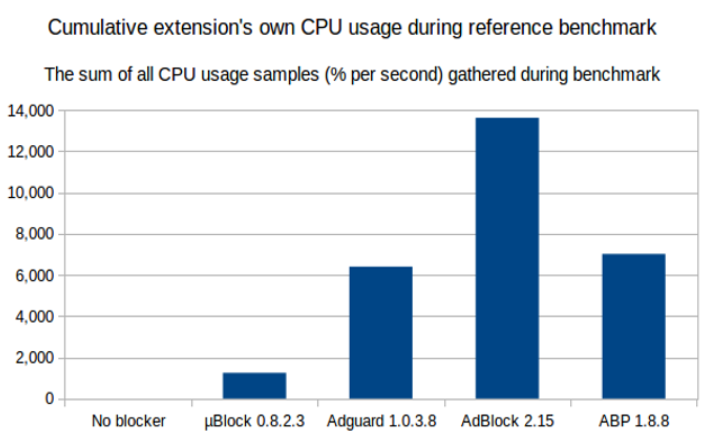 Source: Google Chrome uBlock Origin Store
Download: uBlock Origin
9. CyberGhost VPN Free Proxy
VPN tools are a great way to access websites from countries that would otherwise not be available in your location. Not only that, but you are also protected against malicious actors and data miners since a VPN hides your real IP address and encrypts your connection.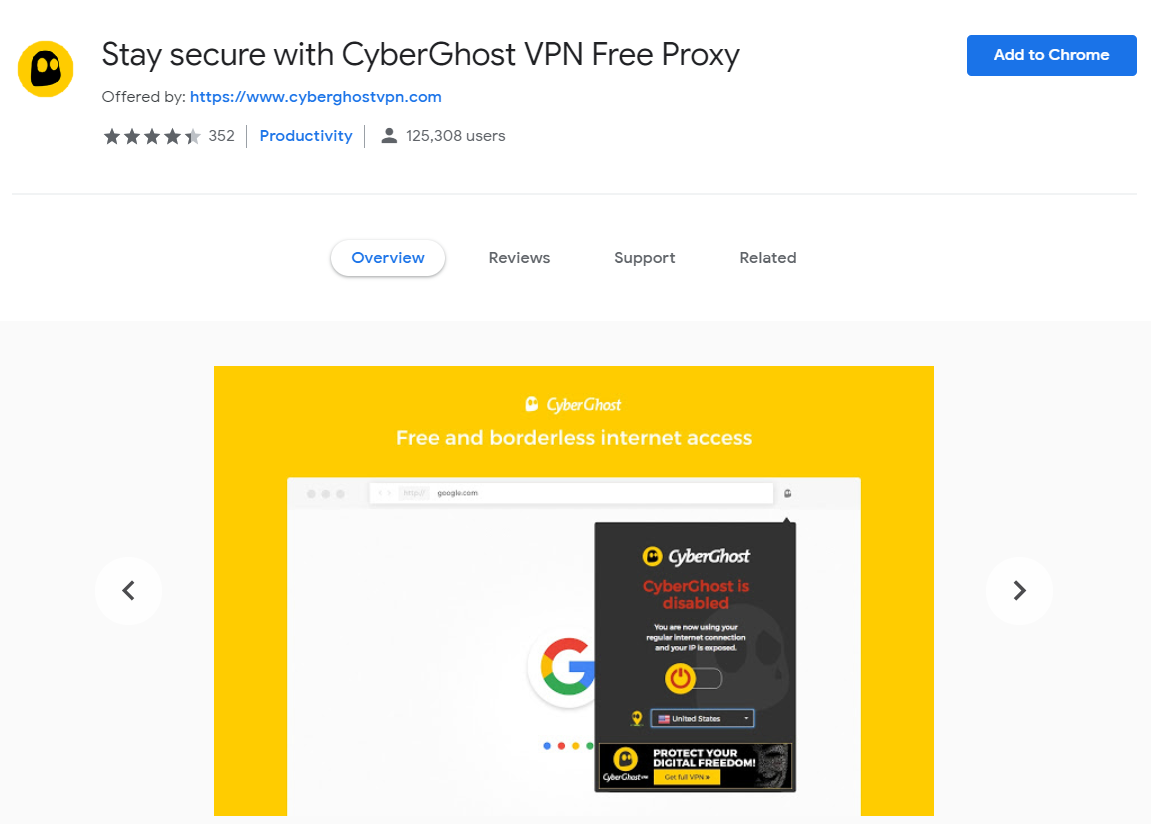 CyberGhost has all of these features in place and has been awarded the "Best Value" category at the BestVPN.com Awards in 2019, so we recommend you check it out.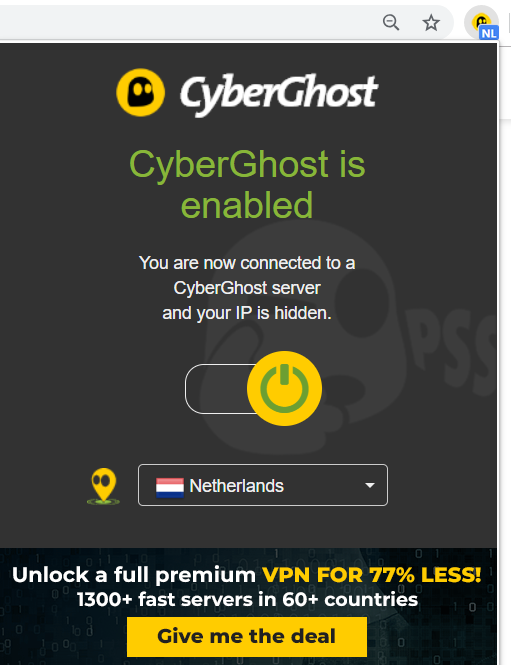 Download: CyberGhost VPN Free Proxy
10. Hotspot Shield VPN Free Proxy
Hotspot Shield VPN is another Chrome extension you should try out.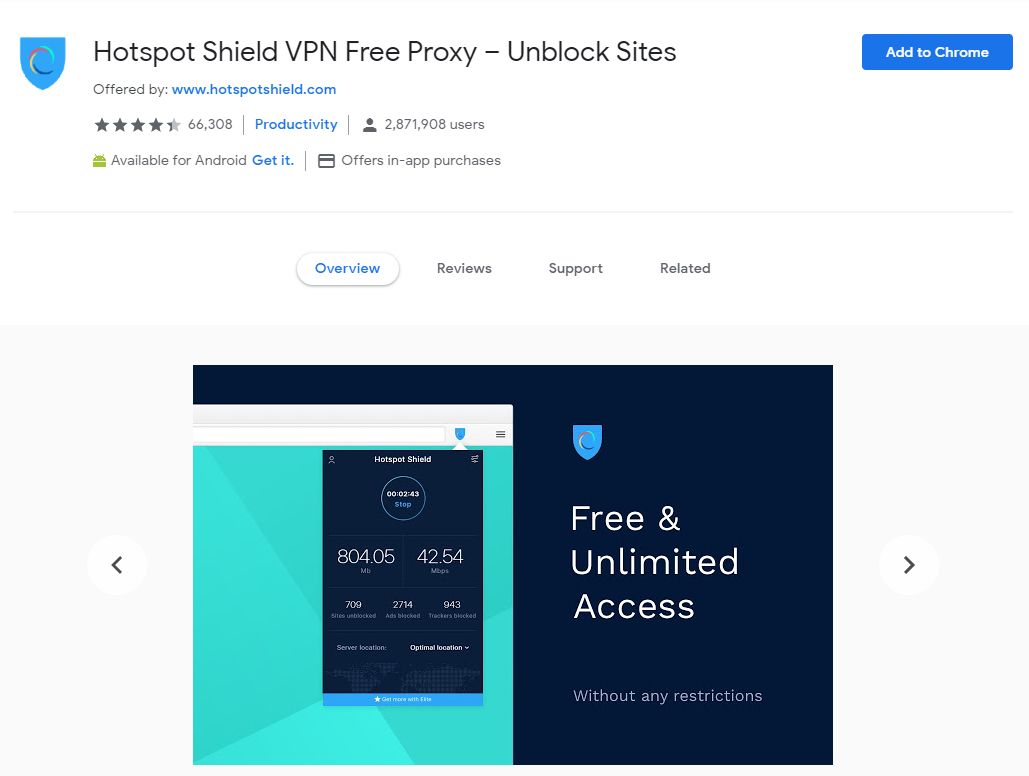 It has both a free and paid version. The free one lets you access 95% of its features – hides your IP, prevents personal information theft, encrypts your activity on any network, and you can automatically secure popular websites or bypass unwanted ones.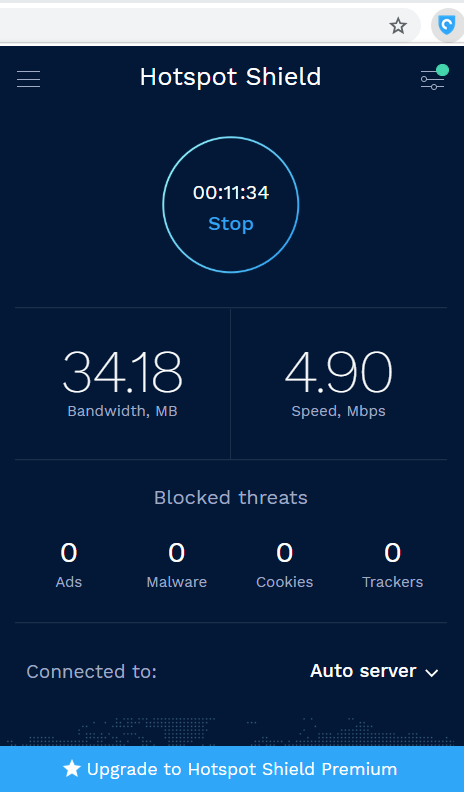 Download: Hotspot Shield VPN Free Proxy
11. Burner Emails: Easy, Fast, Disposable Emails
If you find yourself constantly signing up on a lot of websites, this extension makes creating disposable email addresses much easier and faster. It hides your real email address by generating burner addresses that forward to it. This way you're protected against data breaches, scam emails, identity theft, spam, etc.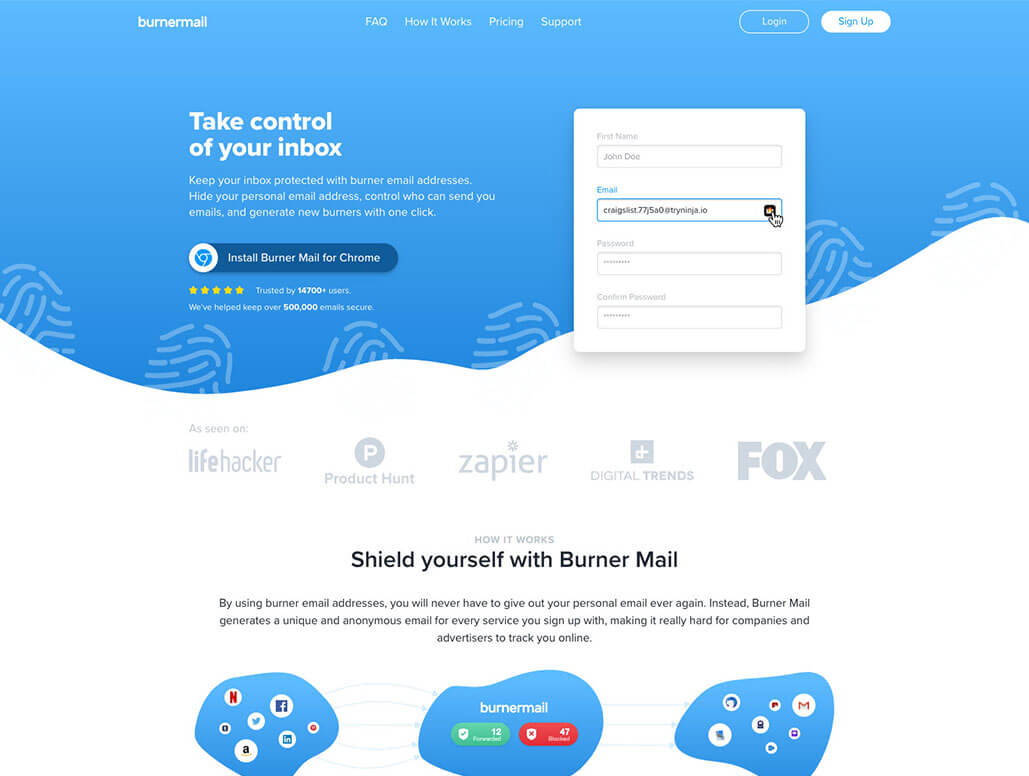 After installing the extension, a "burner" icon will be automatically added to email fields on websites. When clicking it, the email field will be populated with a ready-to-use burner address. Whenever you feel like not receiving emails from a certain website anymore, simply disable it from the list and you're done! You decide who is allowed to send you emails and who isn't.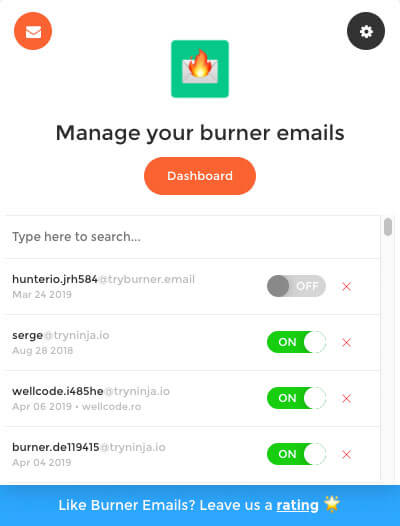 Burner Mail can be used for free, giving you 5 burner addresses, which should be enough for a light user. If you're looking for more features and an unlimited number of burners, a $3.99 Premium monthly subscription is available, along with a $29.99 yearly subscription and a $74.99 3-year one as well.
Download: Burner Mail
Do Chrome extensions work in Incognito Mode?
Chrome extensions will not work in Incognito mode by default since this browsing alternative stops the browser from saving your history, cookies, and website data.
Yet, you do have the possibility to activate the Chrome add-ons manually so they run in Incognito as well.
Here is how:
Step #1: Open an Incognito window, and click on the Settings option.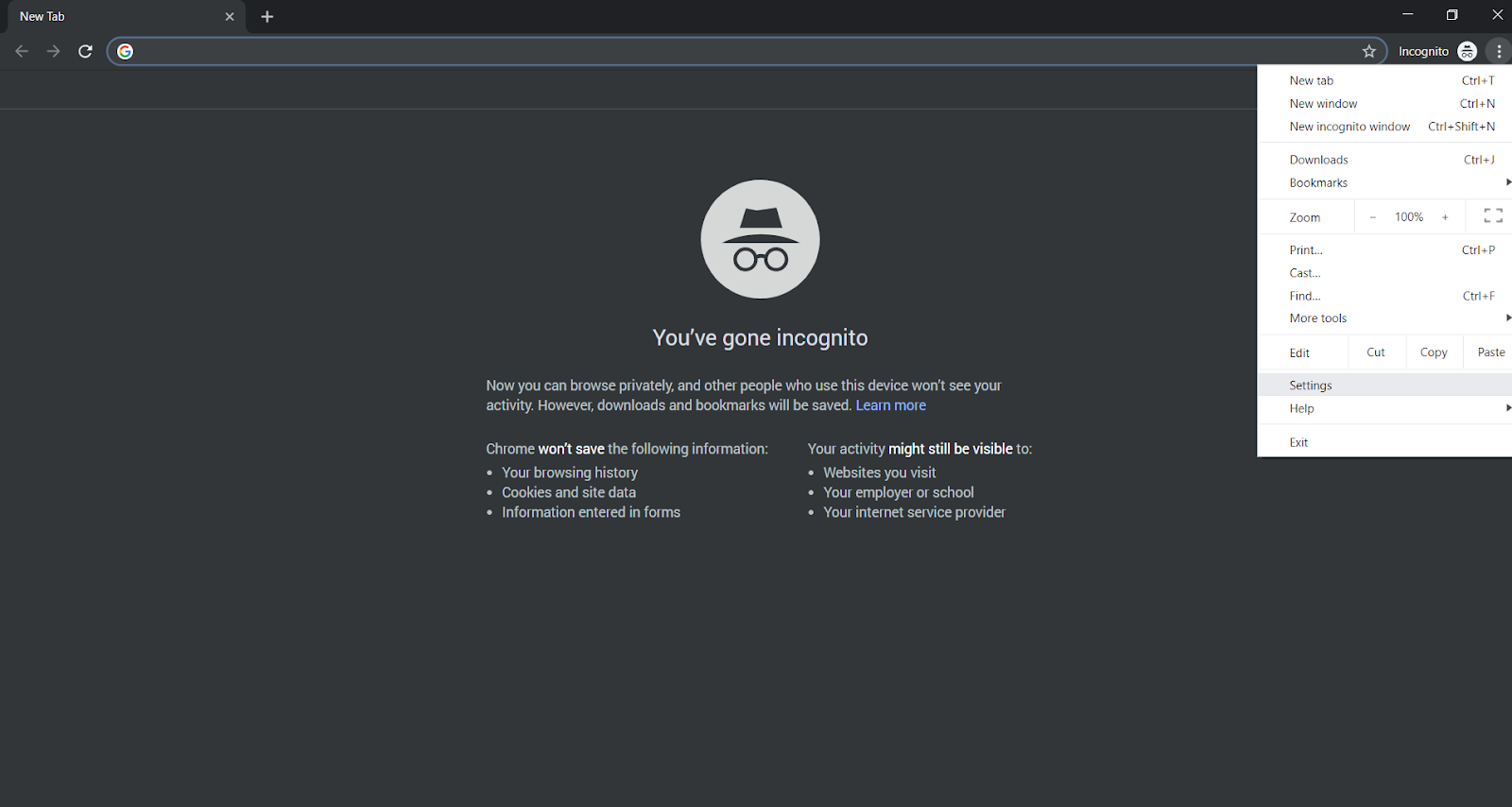 Step #2: The Extensions menu will open in a new Tab. Select the Details option from the add-on you would like to activate.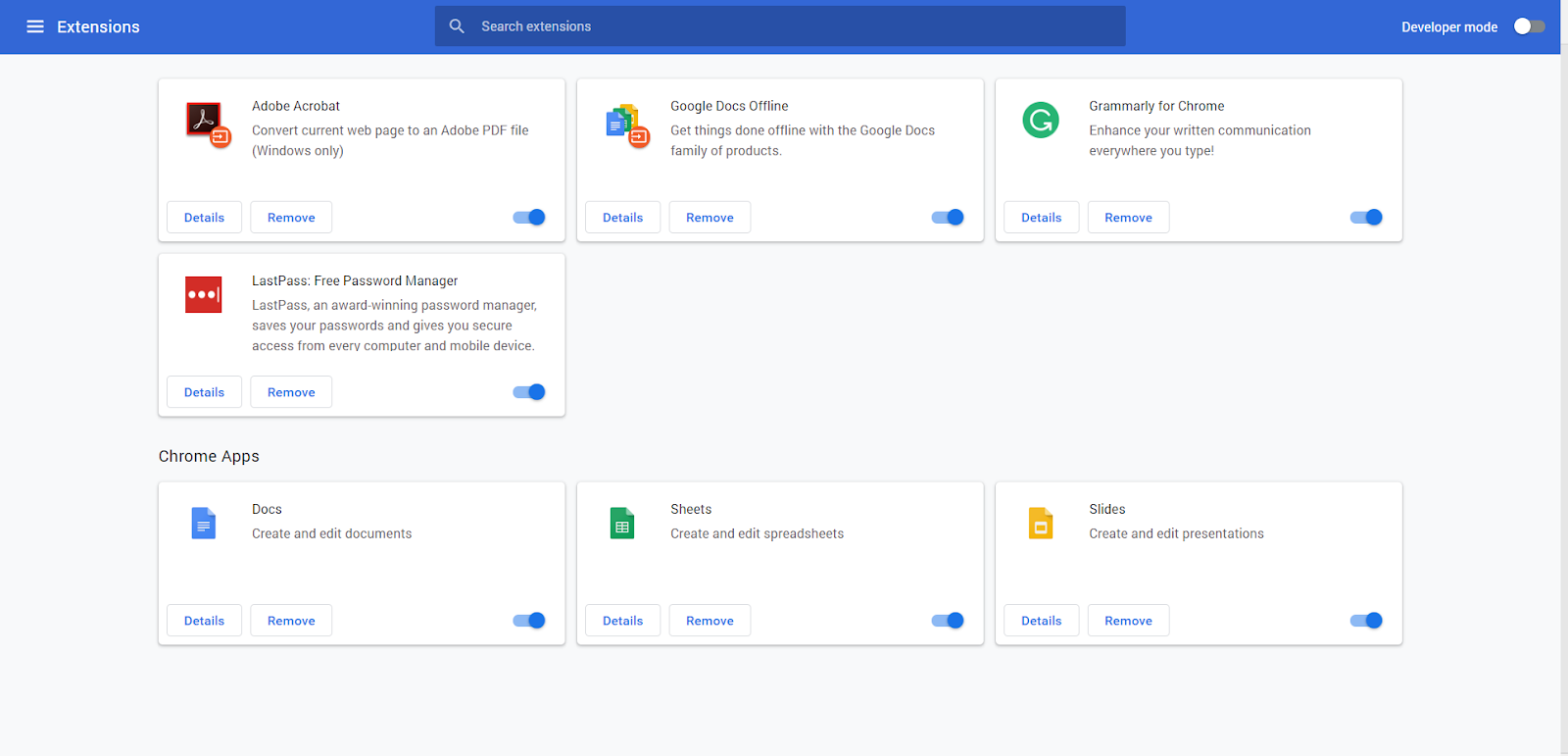 Step #3: Activate Allow in incognito.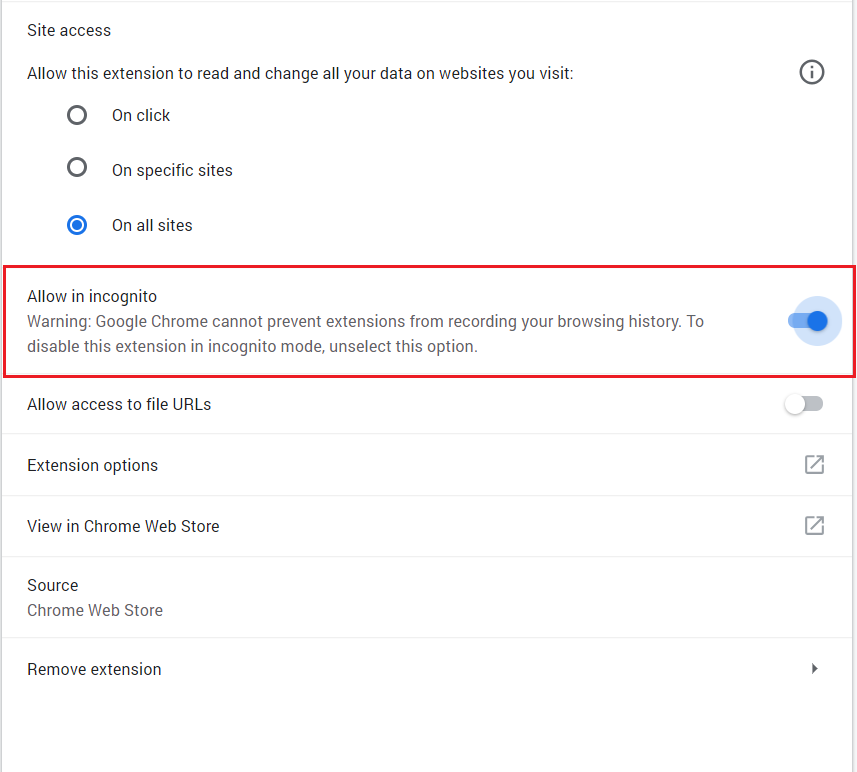 And you're all set. You can now use the add-ons you want in Incognito mode.
Are all Chrome extensions safe to use?
As a general rule, be careful when you browse the Chrome Web Store for extensions, as there are chances you run into add-ons that can compromise your security and privacy.
Here are some guidelines to keep in mind:
Always look at the extensions' rating and try to choose the ones that have at least 4.3 out of 5 stars. And also make sure you read the user reviews.
Install extensions from trusted sources. You may want to look into who actually developed the add-on and see if the source looks suspicious or not.
Pay attention to what permissions the extensions require. If an extension you are already using suddenly asks you to grant another permission, this means it may have been compromised.
Never install too many extensions. Stick to the ones you really need. Too many of them can both slow down your browser and make it difficult to keep an eye on to notice if something fishy is going on.
Don't rely on security browser extensions exclusively and also install an anti-malware solution on your computer.
The easy way to protect yourself against malware
Here's 1 month of Heimdal™ Threat Prevention Home, on the house!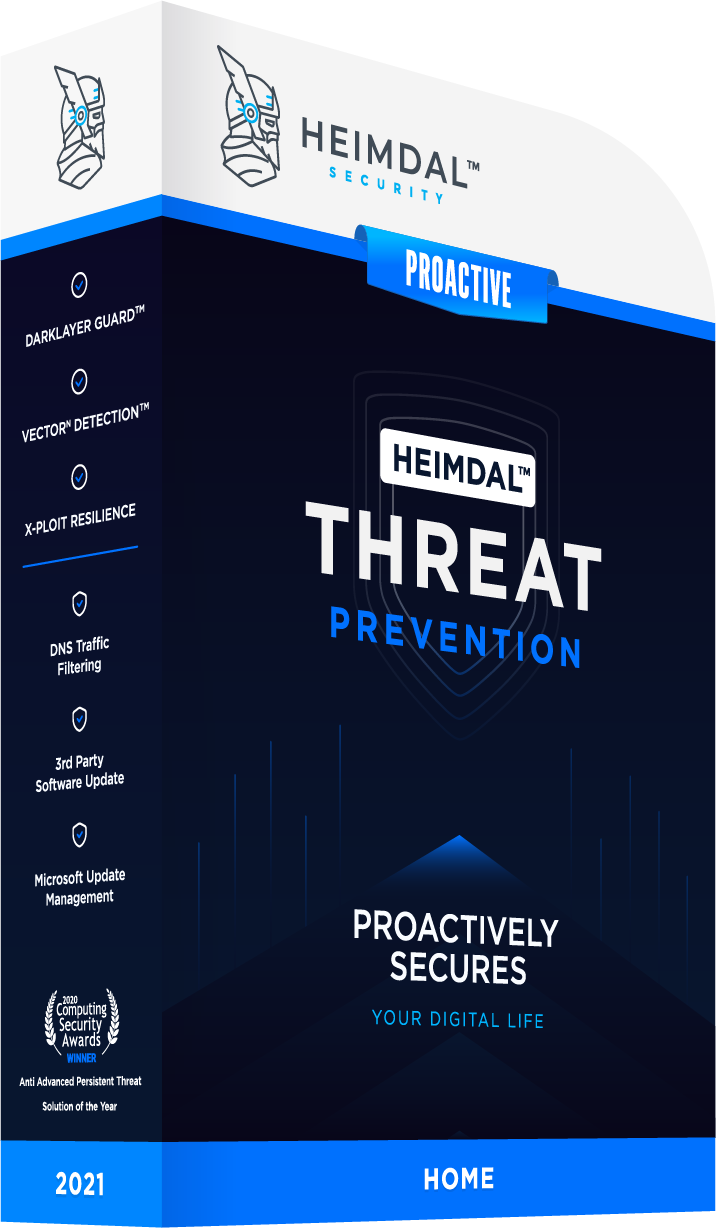 Use it to:
Block malicious websites and servers from infecting your PC
Auto-update your software and close security gaps
Keep your financial and other confidential details safe
What security and privacy add-ons have we missed? Are there any Chrome extensions that you would advise against? Share your thoughts in the comments section below.