Bloomberg Technology Summit 2022: Lessons Learned
Heimdal® CEO Morten Kjaersgaard Has Shared His Thoughts on How the Cybersecurity Landscape Is Changing.
LAST UPDATED ON
OCTOBER 4, 2022
The technological revolutions taking place in practically every aspect of our lives are causing a significant change in the dynamics of society. But does this offset the fresh difficulties that have emerged, particularly in the previous several months? European industry leaders, policymakers, innovators, pioneers, and investors gathered last week in London for the Bloomberg Technology Summit. The event provided a forum for the discussion of creative economic and commercial solutions that would help them adjust to the rapidly transforming global technical and economic frameworks.
Businesses across all industries have benefited greatly from the digital revolution in terms of operational efficiency and new income streams. The methods used by cybercriminals and nation-states to target security flaws, notably in the supply chains for hardware and software, have advanced in sophistication along with financial products. The more data that must be managed, the more attack-prone that very data is.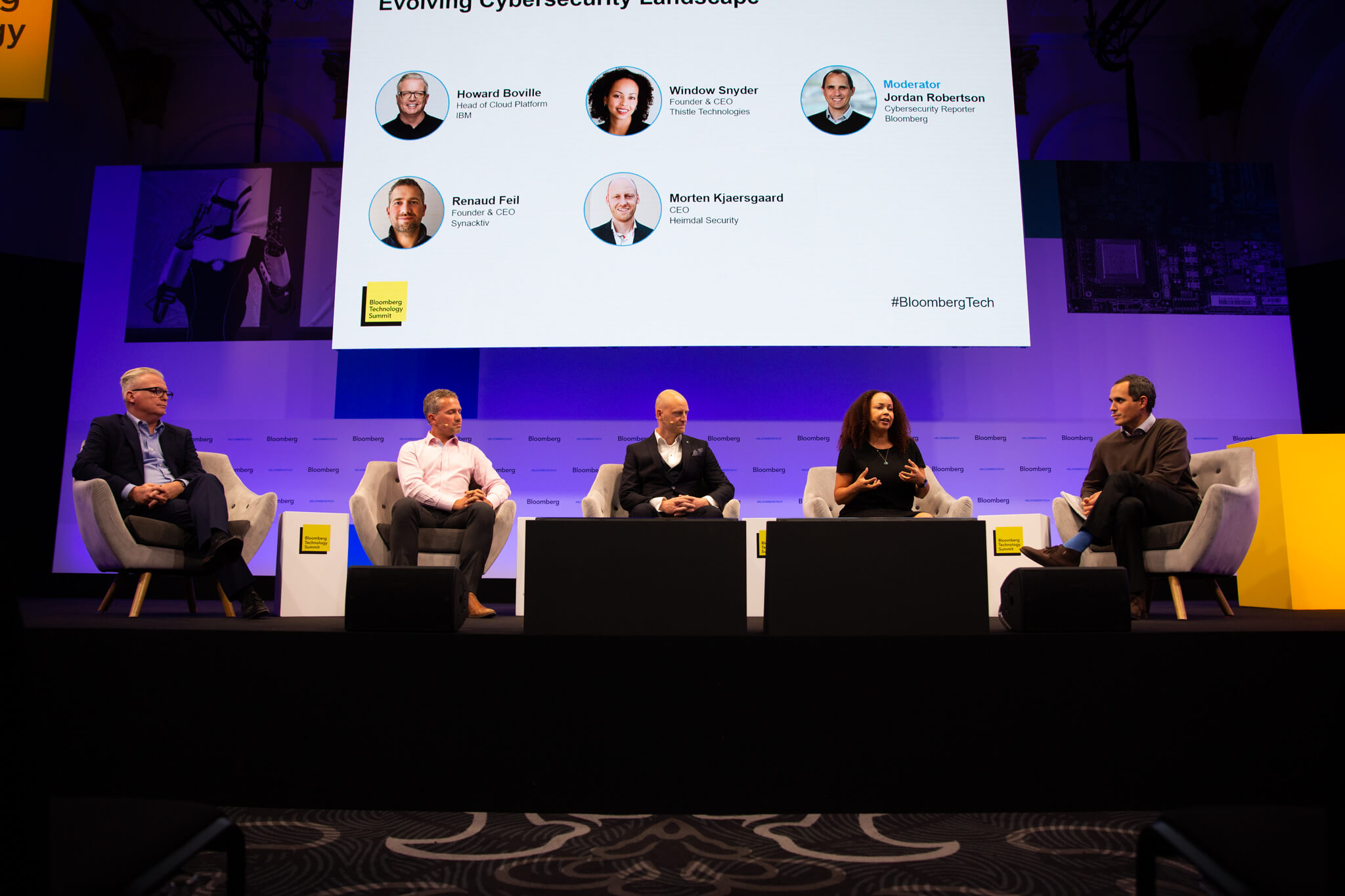 In the Evolving Cybersecurity Landscape panel, experts including Morten Kjaersgaard, CEO of Heimdal®, Window Snyder, founder and CEO of Thistle Technologies, Renaud Feil, founder and CEO of Synactiv, and Howard Boville, head of IBM's cloud platform, shared their perspectives on the value of protecting current and emerging innovation and technology for improved user experiences. The panel was moderated by Bloomberg's Jordan Robertson.
Jordan Robertson: One of the hardest areas of supply chain to manage is software updates. You expect that the update that's coming from a legitimate source is itself legitimate. How much work would you reasonably expect a customer to do? To inspect it and pull it apart to see – (as in the case of SolarWinds, the attack from last year where the legitimate technology company Mega was compromised and malware was inserted) how much work should you actually expect it to do, to see if there's malware in there? Can you talk a little bit about the scanning of updates technology does a little bit of this and kind of what is considered reasonable in terms of opening an update and letting it run to see if it does something bad? You can't do that for very long otherwise your customers will revolt, so what's considered reasonable to inspect an update and see if there's something bad happening in there?
Morten Kjaersgaard: You talk about embedded trust, and we can make a very nascent example here. I see lots of people on their laptops or mobile phones and you trust the updates automatically coming there. So your iOS device will get automatically updated and you have embedded trust that Apple is doing it correctly, but if they're not, you have a serious problem. To Jordan's point of what we do, we do check those embedded updates coming out as well, and the way we work with that is we also try to teach the customer how to do it too. So if you're a customer, you need to go and check if they have compliance certificates. Are they ISAE 3000 certified? Are they ISO 27001 certified? When you choose your vendors, make sure you do that compliance process correctly. (…) We have the CC Cleaner, it's a clean example from a couple of years back, and SolarWinds, a the supply chain breach, and the way we check that is we go in, we actually check what is happening in there, we'll leave it in the box for three to four hours just to make sure you let it run to see what it does exactly. But you can't expect customers to do that. For a thousand-seat business, you'll have hundreds of updates coming through a month just on the Windows platform, and then for third-party software, you'll have Adobe, Apple, there are loads of vendors you need to check. It's way beyond their grade. (…)
The summit also underlined that in recent years, the digitalization of economies and businesses has gained momentum. The global digitalization industry is anticipated to develop at an annual growth rate of 16.5%, hitting the $1 billion mark by 2025, according to a report published in 2020 by Research & Markets.
Yet there's more to this story than meets the eye.
Aside from the COVID-19 pandemic's effects, the Russian invasion of Ukraine, the rise in worldwide inflation, and China's preference for political stability over economic development present some of the most challenging risks to the world economies and businesses, including bearish markets, rising energy costs, higher interest rates, and a global labor shortage.
However, the widespread acceptance and increased speed of digital transformation have demonstrated its benefit in both maintaining the integrity of the business and the economy and adding value. A new digital business model is needed by around 64% of companies, according to Statista, while 21% wish to incorporate digital technology into their current business strategy.
But before it can take hold, digital transformation needs a strong strategy and regulatory framework.