Apple App Store Removes Nearly A Million Risky Apps In 2020
These Measures Resulted in Customers Being Protected From $1.5 Billion in Potentially Fraudulent Activity in 2020.
LAST UPDATED ON
MAY 17, 2021
After Google revealed how it stopped malicious activity on Google Play in 2020, Apple recently published similar stats regarding its own review process for the App Store.
The company announced it successfully protected users from more than $1.5 billion in potentially fraudulent transactions on its App Store, preventing the attempted theft of their money, information, and time and rejected more than 215,000 apps for privacy violations last year.
Apple noted that it has a stringent review policy in place that aims to restrict malicious apps from launching in the App Store. The App Review team is an important part of this process as it utilizes the App Store's guidelines to approve or reject submissions from various developers. What's more, given the continuously evolving threat landscape, these guidelines are constantly updated.
For Apple, privacy is a fundamental right, and this commitment is one of the main reasons why users choose the App Store.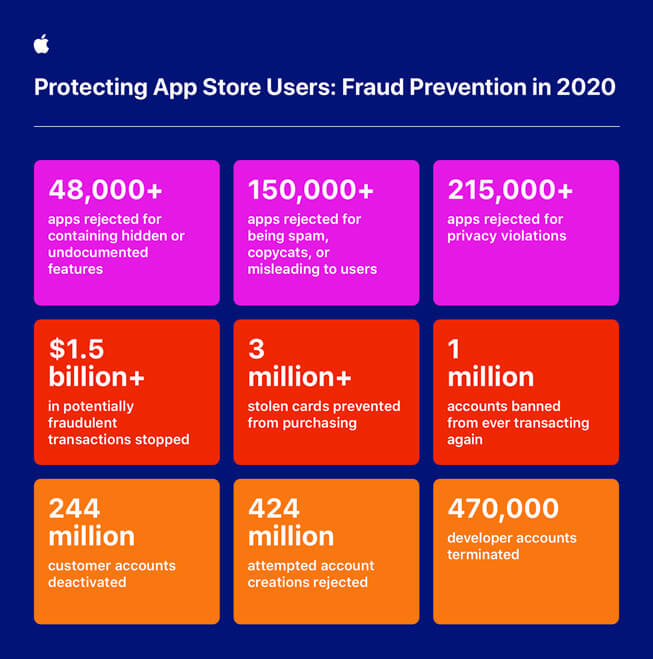 Image Source: Apple
The company says it relies on a sophisticated system that combines machine learning, AI, and human review to moderate ratings and reviews and help ensure transparency, accuracy, and trust.
Despite fraudsters' sophisticated techniques to obscure their actions, Apple's aggressive monitoring means these accounts are terminated, on average, less than a month after they are created.
Source: Apple
Since 2020, over 1 billion ratings and over 100 million reviews were processed, and over 250 million ratings and reviews were removed for not complying with moderation standards. In addition, 470,000 developer accounts were terminated and an additional 205,000 developer enrollments were rejected over fraud concerns, preventing them from submitting an app to the store again.
Ultimately, the tech giant found and blocked around 110,000 illegitimate apps on pirate storefronts, deactivated 244 million customer accounts due to fraudulent and abusive activity, and rejected 424 million attempted account creations because they displayed fraudulent and abusive activity patterns.
And in just the last month, Apple blocked more than 3.2 million instances of apps distributed illicitly through the Apple Developer Enterprise Program. The program is designed to allow companies and other large organizations to develop and privately distribute internal-use apps to their employees that aren't available to the general public. Fraudsters attempt to distribute apps via this method to circumvent the rigorous App Review process, or to implicate a legitimate enterprise by manipulating an insider to leak credentials needed to ship illicit content.
Source: Apple
Although the numbers are quite impressive and Apple promises to make the App Store a safer place for both developers and users, there is no such thing as a perfect system, and we all know that threat actors can still slip through our fingers.
If you notice something of the sort, Apple recommends that you make use of the "Report a Problem" capability in the App Store or call Apple Support to notify them.