Acer Hit Twice in One Week by the Same Hacker
It Looks Like That the Company Was Attacked by the Same Threat Actor that Was Behind the First Attack.
LAST UPDATED ON
OCTOBER 20, 2021
Threat actors identified as 'Desorden' claimed they had hacked Acer India's computers and stolen data, including client information.
What Happened?
Acer reacted in a press release saying this was an isolated assault and only affected their after-sales support systems in India.
Desorden sent a note to journalists, claiming that on October 15th, they broke into Acer Taiwan's systems and took employee and product information.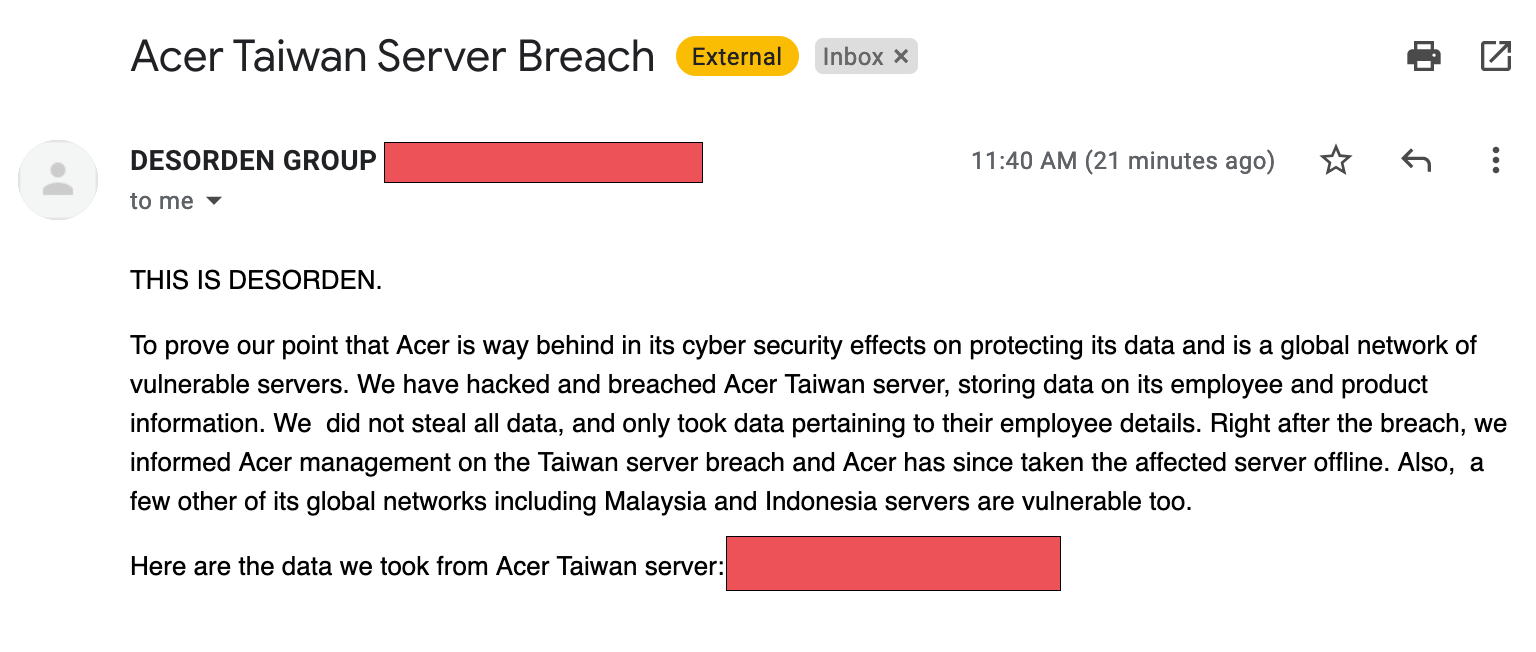 They also provided pictures of an internal Acer Taiwan portal as well as CSV files holding Acer staff login passwords.
According to BleepingComputer, the threat actors carried out the assault to show that Acer is still susceptible and the extra security measures were not sufficient to prevent further attacks.
We did not asked for separate payment on the Taiwan breach. it was meant to prove our point that Acer has neglected their cybersecurity. – Disorden
Soon after the threat actors informed Acer Taiwan of the vulnerability, the firm shut down the vulnerable server. Other servers in Malaysia and Indonesia are still susceptible, according to the hacker group.
In a response to BleepingComputer yesterday, Acer acknowledged the intrusion and stated that the Taiwan hacks only affected employee data.
We have recently detected an isolated attack on our local after-sales service system in India and a further attack in Taiwan. Upon detection, we immediately initiated our security protocols and conducted a full scan of our systems. We are notifying all potentially affected customers in India, while the attacked Taiwan system does not involve customer data. The incident has been reported to local law enforcement and relevant authorities, and has no material impact to our operations and business continuity.
Acer was also the victim of another hack in March 2021, when the REvil ransomware group locked their network and demanded a $50 million ransom.
Data breaches are quite common these days, and businesses are the most popular targets of hackers.
How Can You Improve Your Company's Security?
The unified cybersecurity suite from Heimdal™ brings all solutions together in order to provide you with a flawless anti-threat synergy.
If you liked this article, follow us on LinkedIn, Twitter, YouTube, Facebook, and Instagram to keep up to date with everything we post.