A Cyberattack Forced the Shutdown of 7-Eleven Stores in Denmark
What's the Current Status of the Incident?
LAST UPDATED ON
AUGUST 9, 2022
Following a nationwide cyberattack that affected stores' payment and checkout systems, 7-Eleven locations in Denmark closed their doors yesterday.
7-Eleven, Inc., styled as 7 ELEVEn, is an American multinational chain of retail convenience stores selling convenience foods, beverages, and gasoline, headquartered in Dallas, Texas. The American company has 78,029 stores in 19 countries and territories, with 135,332 employees as of November 2021.
It appears that the company became aware of the attack when the cash registers suddenly stopped working in all stores and the employees started announcing the strange event.
The incident took place on August 8th, early in the morning, and the corporate immediately announced on Facebook that they were probably the target of a hacker attack.
Here is the Facebook message informing that the company has shut down all of its locations in Denmark while it investigates the cyberattack.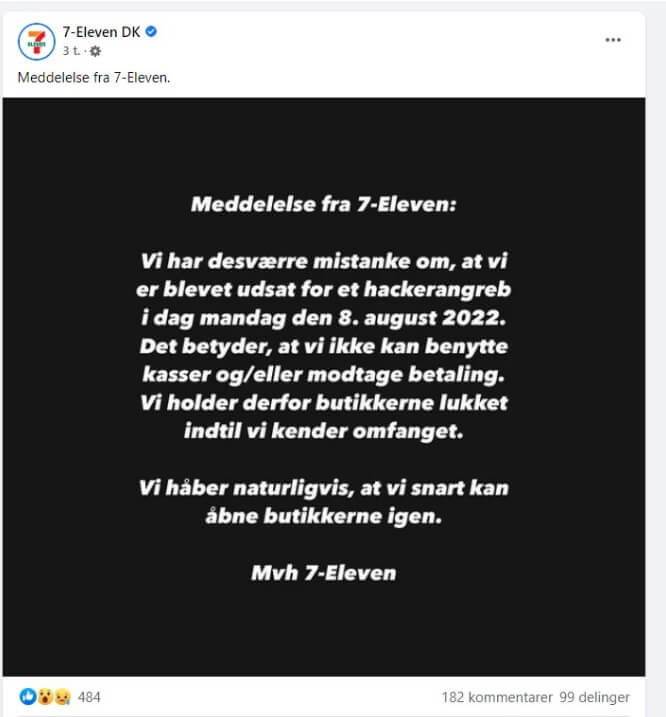 Unfortunately, we suspect that we have been exposed to a hacker attack today, Monday 8 August 2022. This means that we cannot use checkouts and/or receive payment. We are therefore keeping the stores closed until we know the extent. We naturally hope that we can open the stores again soon.
In a Reddit post that is no longer available on the platform, an individual that claimed to work at a 7-Eleven in Denmark also confirmed the attack, stating they had to close the store because the checkout systems stopped functioning. The alleged employee said:
Working at the 7-eleven at Strøget and our checkout system does not work, all the country's 7-eleven run with the same system, so all 7-eleven in Denmark are "closed" right now.

We ourselves have closed our doors to customers and have put up a sign.
There is currently no additional information regarding the incident, including whether ransomware, which has grown to be the most frequent type of attack causing significant outages all over the world, was involved.
The reopening date of the stores is also unknown as "there is no schedule yet."
When contacted, 7-Eleven responded that they have nothing more to add to their initial statement.
If you liked this article, follow us on LinkedIn, Twitter, Facebook, Youtube, and Instagram for more cybersecurity news and topics.