Cyberattacks on Businesses Hit an All-time High of 925 per Week, New Report Shows
Education and Research, Most Impacted Sectors in 2021.
LAST UPDATED ON
JANUARY 11, 2022
Less than a month after we witnessed the discovery of one of the internet's most critical flaws, with millions of cyberattacks every hour trying to abuse the Log4J vulnerability, 2021 has been a record-breaking year when it comes to cybersecurity: 925 attacks a week per company, all over the world.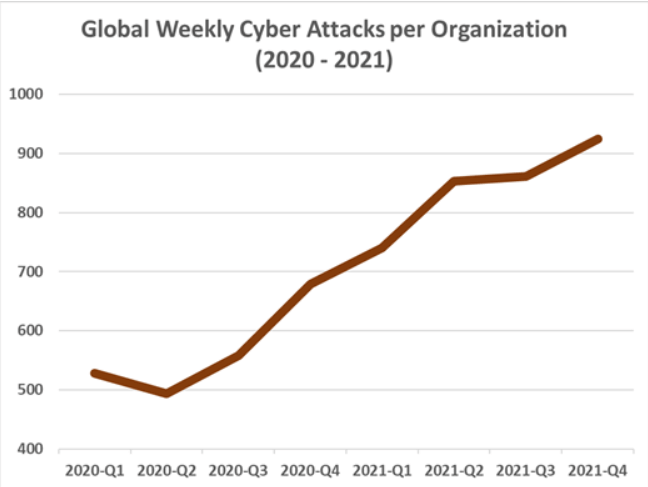 According to a Check Point Research (CPR) report published on Monday, overall in 2021, there have been 50% more attacks per week on corporate networks compared to the previous year. The same report shows that Log4Shell attacks are a significant contributor to the growth.
Proof-of-concept exploits for a significant zero-day vulnerability discovered in the widely used Apache Log4j Java-based logging library were distributed online, exposing both home users and businesses to continuing remote code execution assaults.

The vulnerability, officially tagged as CVE-2021-44228 and called Log4Shell or LogJam, is an unauthenticated RCE vulnerability that allows total system takeover on systems running Log4j 2.0-beta9 through 2.14.1.
What Sectors Have Been Impacted?
Security experts at Check Point stated that the education/research sector saw the most attacks in 2021, with an average of 1,605 cyberattacks per institution every week, a 75% increase from 2020.
The second most targeted was the government/military sector, which had 1,136 attacks per week, with a 47% growth, followed by the communications industry which had 1,079 attacks weekly per organization (51% increase).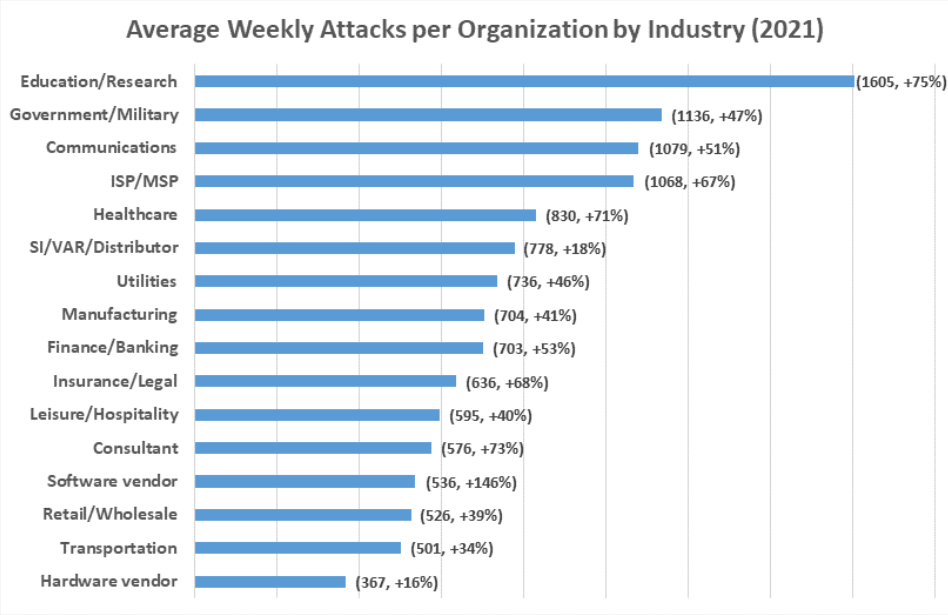 Which Areas Experienced Most Cyberattacks?
Africa – 1,582 attacks per organization every week (highest volume of attacks in 2021), 13% increase from 2020;
The Asia-Pacific (APAC) – 1,353 weekly attacks per organization, 25% increase from 2020;
Latin America – 1.118 attacks weekly, 38% increase from 2020;
Europe – 670 attacks weekly, 68% increase from 2020;
North America – 503 weekly attacks per organization,  61% increase from 2021.
Better Safe than Sorry
Businesses everywhere are encouraged to take into consideration a single solution that can cover all attack surfaces and vectors in order to achieve successful coverage.
In a multi hybrid environment, where the perimeter is now everywhere, security should be able to protect it all. Email, web browsing, servers and storage are merely the basics. Mobile apps, cloud and external storage are essential, so does compliance of connected mobile and endpoint devices, and your growing IoT device estate.

Workloads, containers, and serverless applications on multi- and hybrid-cloud environments should be part of the check list at all times.
More Recommendations
Know the importance of patching. Organizations should make an effort to keep all systems and software up to date with security patches.
Segmentation. In order to prevent infections from spreading over the entire network, these should be segmented, implementing robust firewall and IPS safeguards between the segments.
Training, training, training. User awareness can frequently avert an attack before it happens. It is essential to spend some time educating your users and make sure that if they notice something suspicious, they promptly notify your security team. User education has always been a vital part of preventing malware attacks.
Decide on the best security solution for you and implement it as soon as possible.
How Can Heimdal™ Help?
Heimdal™ delivers unified corporate security and is ready to protect your operational integrity by stopping even the most sophisticated cyberattacks from day one.
Our security solution combines threat prevention, vulnerability management, access management, antivirus, e-mail security, and ransomware encryption protection into a single platform that simplifies IT operations and helps companies stop any cyberattack, keeping critical assets, information, and intellectual property safe.
Innovative components, unified in a complete Endpoint Prevention, Detection, and Response platform, intelligently work together as one through AI to empower organizations to predict and stop tomorrow's threats, today.
If you liked this article, follow us on LinkedIn, Twitter, Facebook, Youtube, and Instagram for more cybersecurity news and topics.