17 Web Domains Were Seized by the FBI and USPS for Connection to Job Scams
The Job Scams Required Payments with Personal Credit Cards.
LAST UPDATED ON
NOVEMBER 15, 2022
17 web domains used for recruiting money mules for work-from-home and reshipping scams were seized by the FBI and USPS (US Postal Inspection Service) last week, as a result of an investigation that has been taking place since February 2021.
How Did the Scam Happen?
The websites advertised positions such as "quality control inspectors" for what seemed like a legitimate company and requested applicants to ship items from their homes or purchase goods, making the payments with their own credit cards. The victims had to photograph the products they got and reship them to a new address, in exchange for $20 for each item processed.
The "quality control inspectors" used an online platform to follow the "employer's" instructions. The FBI entered one of the accounts and discovered a history of 25 fraudulent purchases, including one for a laptop purchased using a credit card that had been stolen.
The Hazelwood woman allowed investigators to use her credentials to log on to the LocalPost online dashboard, where records showed 25 packages shipped to the Hazelwood address, including a $1,500 laptop fraudulently purchased with a St. Louis County man's credit card.
What Did the Investigation Reveal?
In February 2021, the FBI's Internet Crime Complaint Center (IC3) received 64 complaints about the scams and an investigation started. Last week, the websites have been taken down, but their administrators have not yet been detained, as they are likely located in another country, explains Bleeping Computer.
According to the announcement published by the Department of Justice, investigators have proof that scammers are from Russia. The domains that have been taken over now show a seizure notice and links to more information on the dangers of job scams.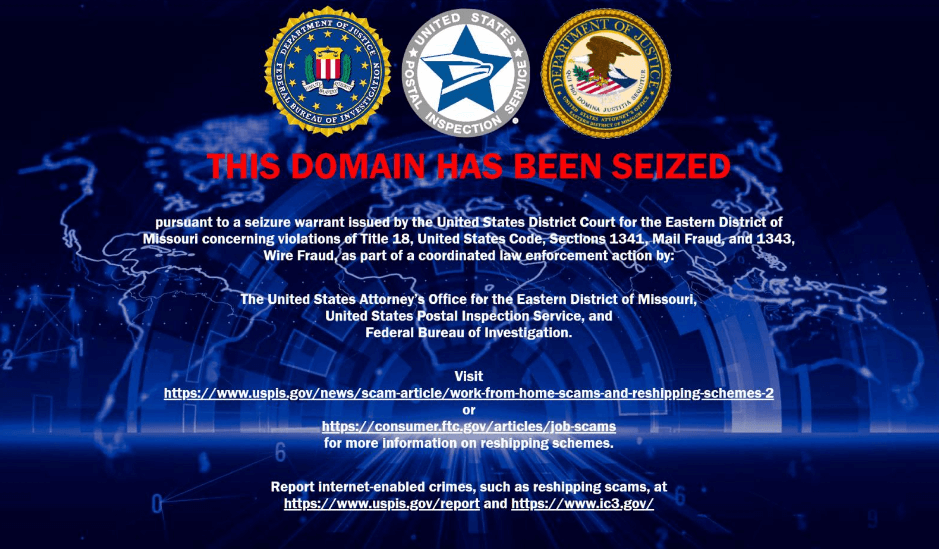 The following domains were involved in the reshipping scams:
amari-dash[.]com
control-scorpio[.]com
costa-account[.]com
dash-amari[.]com
dashboard-zim[.]com
dash-egreen[.]com
dash-orient[.]com
dash-satori[.]com
dash-spt[.]com
egreen-dash[.]com
main-sgl[.]com
navois-account[.]com
orient-dash[.]com
satori-dash[.]com
scorpio-control[.]com
spt-dash[.]com
zim-dash[.]com
The people who previously accessed one or more of these websites and had any interactions with their operators are encouraged to report it to the FTC (Federal Trade Commision).
FBI's official press release on the investigation is available here.
If you liked this article, follow us on LinkedIn, Twitter, Facebook, Youtube, and Instagram for more cybersecurity news and topics.