Vulnerability Management Lifecycle: Step by Step Through the Process
LAST UPDATED ON
OCTOBER 5, 2022
The vulnerability management lifecycle is the ongoing, sequential cybersecurity process of identifying, assessing, prioritizing, and acting against vulnerabilities in order to strengthen the security of an organization.
Vulnerabilities can be described as being holes found in an IT system, that leave the system open to cyberattacks. Some people believe that their systems are flawless because they haven't been affected by cyberattacks so far, which may be true in some instances, but in a lot of cases, companies do not realize that their systems may be flawed until it's too late to act. This is why vulnerability management practices have a crucial role in your company's security and data privacy.
What Is Vulnerability Management?
Vulnerability management refers to the process of proactively identifying, preventing, mitigating, and classifying vulnerabilities in an IT system, based on the level of threat they possess. Vulnerabilities have to be remediated as soon as they are discovered, or otherwise, threat actors may take advantage of them to enter your system and steal data. It is an important piece and acts as a cornerstone for a top-notch security strategy.
The process of vulnerability management requires going through multiple steps to properly secure your systems. Together, these steps represent the vulnerability management lifecycle and it is designed to make it possible for enterprises to detect vulnerabilities in their computer system security, rank assets, evaluate, report, and rectify the flaws, and then confirm that they have been fixed.
Vulnerability Management Lifecycle: Steps and Stages
The vulnerability management lifecycle can be divided into five steps, each one with its specific role in identifying, preventing, mitigating, and classifying vulnerabilities existent in your IT infrastructure.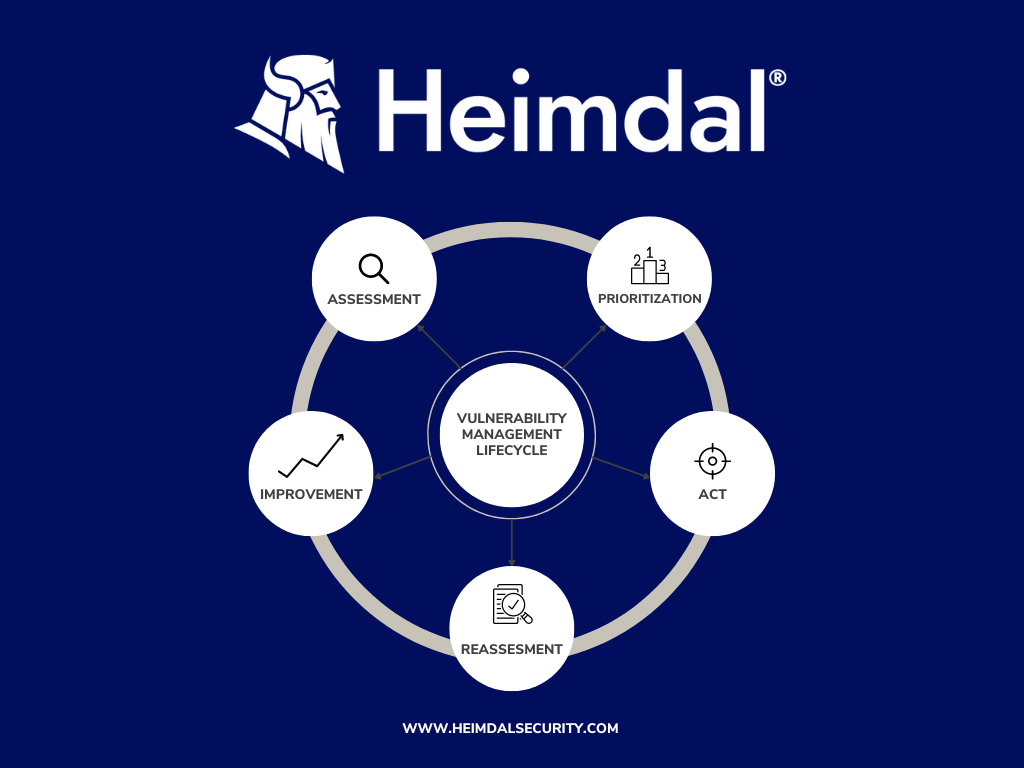 The five steps are sequential, so when the final step of the lifecycle ends, the process restarts.
Step 1: Assessment
The first stage of the vulnerability management lifecycle is the assessment stage. During this stage, cybersecurity experts narrow down and define the assets to be analyzed for vulnerabilities at this stage. The next stage of the assessment process is to evaluate each asset for vulnerabilities and create a report to identify those that need patching, additional research, or remediation.
There are two commonly used methods for completing a vulnerability assessment: using an "agent", which requires installing a sensor on individual assets to detect vulnerabilities or using a network-based solution, which requires all endpoints to be connected to the same network.
Step 2: Prioritization
After identifying and assessing the vulnerabilities in the system, the process of prioritization begins. In this stage, three sub-steps are to be performed. First, the identified vulnerabilities need to be assigned a value based on their importance. With the vulnerabilities now ranked based on their importance, it is time to assess the threat to exposure of each asset. Based on the level of exposure, you can prioritize the remediation of the assets, from the most to the least exposed.
Step 3: Act
Now you have the vulnerabilities uncovered and ranked based on the level of exposure they bring to the assets they are affecting. With the information gathered in the first steps, it is time to start the process of remediating the vulnerabilities. There are more ways in which you can patch the vulnerabilities, based on the level of exposure:
Low Exposure: you can accept the risks of the assets to your system;
Mid Exposure: for higher exposure levels, you can mitigate the vulnerability to stop the attacker from taking advantage of the exposure through security policies;
High Exposure: for assets that have a high level of exposure, it is recommended to completely remediate the vulnerability through patches.
Step 4: Reassessment
After dealing with the vulnerabilities and applying the right solution based on the level of threat they bring to the system, a reassessment is necessary. The reassessment process will give you insight into whether the actions you took to nullify the vulnerability have been efficient or not.
Step 5: Improvement
This is the last step in the vulnerability management lifecycle. After following all the previous steps, you may find flaws that need to be fixed. Thus, by regularly revisiting the lifecycle, you can find ways to improve and make the security of your systems stronger, so that threat actors cannot interfere in your company.
However, following the steps manually and completing the lifecycle over and over again is time-consuming. Heimdal® Patch & Asset Management maintains and supports a continuous vulnerability management program, which allows your organization to assess the effectiveness of its vulnerability discovery, analysis, and mitigation, to keep your infrastructure secure.
To find how Heimdal® can help you by automatically patching the machines in your organization, I recommend you checking out this video on Best Practices for Patch Management in 2023 made by my colleague.
Install and Patch Software. Close Vulnerabilities. Achieve Compliance.
Heimdal® Patch & Asset Management
Remotely and automatically install Windows, Linux and 3rd party patches and manage your software inventory.
Create policies that meet your exact needs;
Full compliance and CVE/CVSS audit trail;
Gain extensive vulnerability intelligence;
And much more than we can fit in here...
Conclusion
The security of your business against cyberattacks from threat actors depends a lot on how you choose to deal with your system's vulnerabilities. Vulnerability management is an important part of the security of your company, and by implementing a strong procedure, you will keep the threats at bay.
Less stress for IT workers and improved security for your company are two benefits of putting in place a vulnerability management approach. Join us in the race to fix any recently discovered vulnerabilities and stop unwanted interruptions brought on by cyberattacks, which never seem to slow down.
If you liked this article, follow us on LinkedIn, Twitter, Facebook, Youtube, and Instagram for more cybersecurity news and topics.