University of Sunderland Faced Operation Issues Following a Cyber-attack
The UK University Had Taken Most of Its IT Systems Down. 
LAST UPDATED ON
OCTOBER 15, 2021
The University of Sunderland faced extensive operational issues that took most of its IT systems down. It is believed that the issue was caused by a cyber-attack.
What Happened?
The first signs of malfunction with the university's IT systems occurred on Tuesday morning, but the problems seem to be widespread and unsolvable.
All phone lines, the official website, the primary email servers, library WiFi, on-premise PC/laptop access, printing, and all online portals that students utilize to access eBooks, journals, and other services appear to have been knocked down by the attack.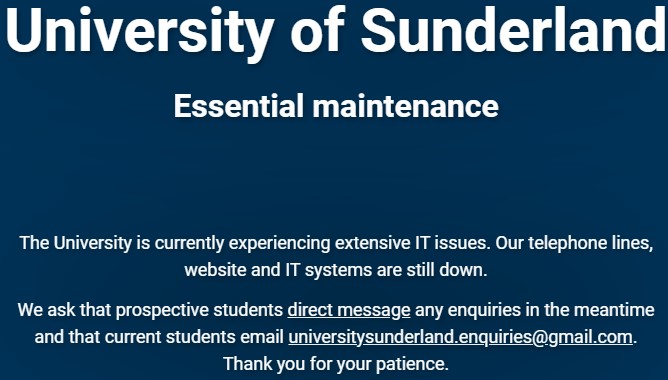 Unfortunately, there is no estimate for when the systems will be operational again since the assault seems to be in the containment phase.
Students who do not have any urgent questions can check the university's social media platforms for updates on the situation, as the single operational mailbox is currently overwhelmed.
❗ University update❗
The University continues to experience extensive IT issues which has all the hallmarks of a cyber-attack. Our telephone lines, website and IT systems are still down. @Graemethedean @sunderlandsu @UoSFutures @UniOfSunComms pic.twitter.com/2h21JLHib6

— University of Sunderland (@sunderlanduni) October 13, 2021
Also, a new website called "uostoday.sunderland.ac.uk" has been set up to provide updates to concerned students, but it looks like no services will be supplied there.
The University of Sunderland is a public research institute with around 20,000 students, thus the cyber-attack has an impact on a large number of individuals.
This event has caught many students at a pivotal time in their studies, with some of them facing tight visa applications or other deadlines.
BleepingComputer got in contact with a spokesperson from the university:
The University is now working with a number of agencies, including the police, to find out what exactly what has happened and the extent of the problems.

Students are being encouraged to come onto all University campuses where face-to-face teaching is continuing and information help-desks will be available to offer guidance and support.

For those studying further afield, plans have been made to ensure they can continue doing so, with minimum disruption.

We take the security of our systems extremely seriously and will work to resolve the situation as quickly as possible.
Although the University of Sunderland hasn't mentioned a ransomware assault, the widespread outage indicates this is a possibility.
As thoroughly explained by Andra, ransomware is a sophisticated piece of malware that encrypts all the data on a victim's PC or mobile device, blocking the data owner's access to it. After the infection, the victims receive a message informing them that they must pay a particular amount of money (typically in Bitcoins) to obtain the decryption key. There is usually a time restriction for completing the payment; else, the files may be lost permanently. It should be emphasized that even if the victim pays the ransom, there is no assurance that the decryption key will be delivered.