Stolen Credit Cards Biggest Dark Web Marketplace Closes Down
The Threat Actors Earned $358 Million in Purchases, According to Researchers.
LAST UPDATED ON
JANUARY 18, 2022
The greatest dark web marketplace for stolen credit cards known under the name of UniCC has made an announcement that its team is retiring.
UniCC Shuts Down Its Business
According to a report published by Elliptic analysts, UniCC is retiring from business after they earned $358 million since 2013 in purchases. They used cryptos such as Bitcoin, Litecoin, Ether, and Dash.
The UniCC message reads like this in the researchers' report:

Users have 10 days to spend their balances.
Customers are also advised to not "follow any fakes tied to our comeback".
What Is UniCC?
UniCC is a platform that works as an underground marketplace. This is used to traffick stolen credit cards details by means of malicious skimmers injection in order to receive crypto for them. Hackers can steal this data from payment enterprises, banks, or online retailers. Eventually, the threat actors use the cards to buy gift cards or high-value items.
Following Joker's Stash's Retirement
As the researchers underline, this UniCC retirement comes after a year of the Joker's Stash's retirement, this being the previous market leader.
It comes just under a year since the retirement of the previous market leader Joker's Stash, which facilitated the sale of nearly $400 million in stolen cards. UniCC benefited from the gap in the market left by Joker's Stash – quickly taking the lead with a 30% market share.
The researchers also published an illustration displaying the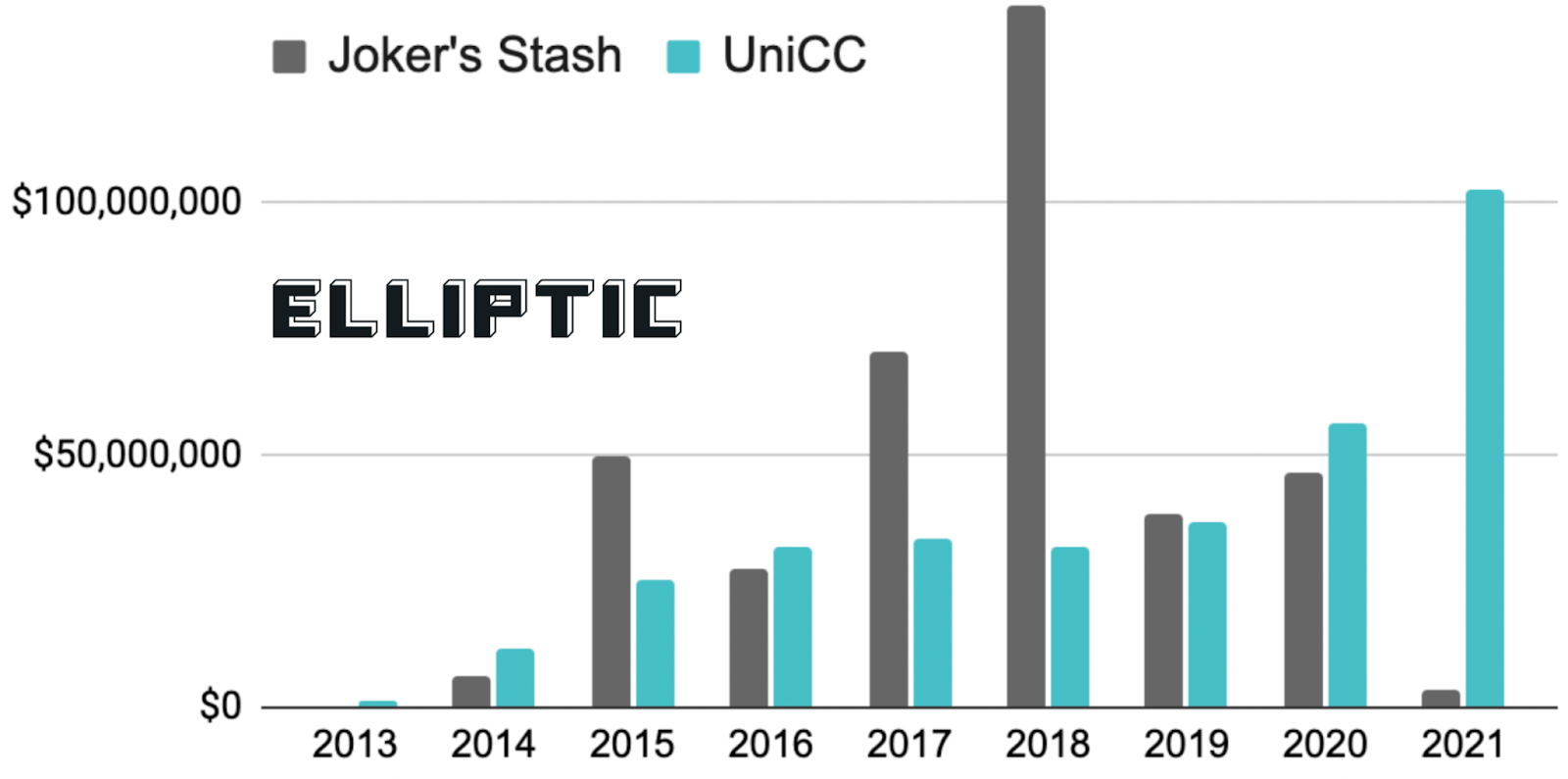 What's worth mentioning is that the experts are of the opinion that this process, met frequently under the "carding" name, is a common and essential technique among threat actors, as it is profitable serving at the same time crypto laundering and cashout purposes.
The Black Market for Stolen Credit Cards Has Become Lucrative
According to thehackernews.com, the black market employing stolen credit cards has become quite profitable for threat actors as sales exceeded 1.4 billion in Bitcoin reflecting the evolution of the ransomware landscape which is continually evolving because this increase facilitates the path for new entrants.
All World Cards, which appeared in 2021, known for their credit card data leakage activities is considered the most notable. Reportedly, the data was gathered between 2018 and 2019 with cards belonging to Banco Santander, State Bank of India, and also Sutton Bank.
The wave of recent departures has potentially been a trigger for UniCC's retirement, as illicit actors see an opportunity in the turbulence to either run away with users' funds or retire to avoid increased law enforcement attention. Seizures in the carding market by the authorities are not unheard of, however. In July 2021 stolen credentials market Slilpp was seized by the FBI in collaboration with numerous European agencies after making almost $22 million in Bitcoin.
If you liked this article, follow us on LinkedIn, Twitter, Facebook, Youtube, and Instagram for more cybersecurity news and topics.