Security Alert: Angler Exploit Kit Spread In New Drive-by Campaigns
Fancy a malware cocktail on your PC? This time you could get infected just by visiting a legitimate website
LAST UPDATED ON
DECEMBER 2, 2015
Our team has recently monitored and analysed a new stack of drive-by campaigns which aim to spread the Angler exploit kit by injecting malicious code into compromised web pages. Because of the mechanisms involved and the attackers' objectives, the campaign is prone to achieve large distribution and affect a big number of PCs and their users.
Stages of infection
The campaign is carried out by installing a cocktail of malware on the compromised PC. The first payload consists of the notorious data thief Pony, which systematically harvests all usable usernames and passwords from the infected system and sends them to a series of Control & Command servers controlled by the attackers. The purpose of this action is to abuse legitimate access credentials to web servers and CMS systems used by websites and to inject the malicious script in these websites so that the campaign achieves the largest possible distribution. In the second phase, the drive-by campaigns unfold via the victim being moved from the legitimate website, which has been compromised, to a heap of dedicated domains which drop the infamous Angler exploit kit. The Angler exploit kit will then scan for vulnerabilities in popular third-party software and in insecure Microsoft Windows processes, if the system hasn't been updated. Once the security holes are identified, Angler will exploit them and force-feed CryptoWall 4.0 into the victim's system. Here is a small selection of the websites that deliver the Angler exploit kit (sanitized by Heimdal Security): poinformowano [.] websitesfortrainers [.] com etailate-rebells [.] websitesfortrainers [.] com gmackenziekorntunna [.] websitesfortrainers [.] com nopeutunutta-Zeitschriftenverlag [.] websitesfortrainers [.] com entelrgy [.] net websites4all [.] net ISV [.] isigmasystems [.] net isigmasystems [.] net swindlerskateboard [.] net john grant [.] codes tapdanceshoes [.] us thesnoringowl [.] com fiveleafvinyard [.] com applegateweedworkers [.] com getoor-riccibit [.] applegateweedworkers [.] com assassinaviravate [.] applegateweedworkers [.] com earthwar-mail data [.] applegateweedworkers [.] com zeitsparendem-accidere [.] applegateweedworkers [.] com embezzlementeconomicpolicy [.] applegateweedworkers [.] com minnetonkauniversity [.] com rhythmtapshoes [.] net kontrollogikidiotyzm [.] rhythmtapshoes [.] net destituaveram [.] Dothy [.] com The campaign is extensive and it originates from a bulletproof hosting environment located in Ukraine. More than 100 web pages in Denmark have been injected with the malicious script, but the campaign is not limited to Europe. In the last 24 hours, we have blocked more than 200 new domains which were used by attackers to spread CryptoWall 4.0 via Angler in this drive-by campaign. Here is a diagram that illustrates the scale of this campaign, which is centered around six servers from the same provider in Ukraine.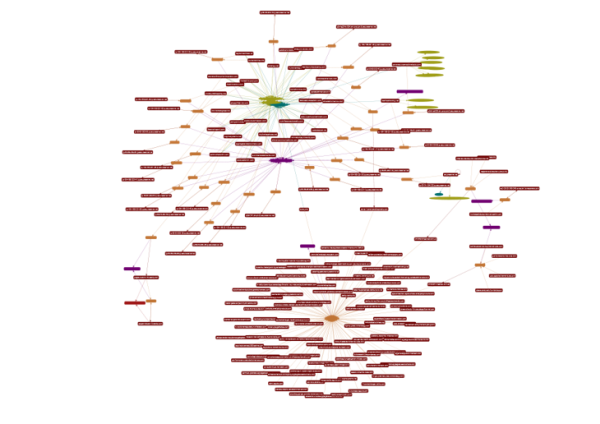 That CryptoWall payload communicates with the following Bitcoin gateways (sanitized by Heimdal Security): 3wzn5p2yiumh7akj.partnersinvestpayto [.] Com / Npc5ea 3wzn5p2yiumh7akj.marketcryptopartners [.] Com / Npc5ea 3wzn5p2yiumh7akj.forkinvestpay [.] Com / Npc5ea 3wzn5p2yiumh7akj.effectwaytopay [.] Com / Npc5ea Let's not forget that Angler continues to be the most widely used exploit kit, because of its capability to integrate Zero Day vulnerabilities and various exploits, but also because it can maintain a very low detection rate when it comes to traditional antivirus products.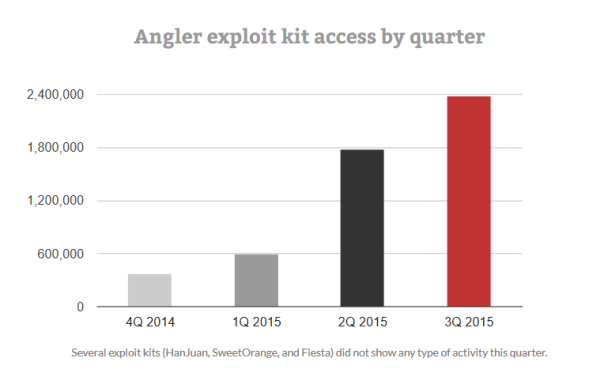 Antivirus detection is extremely low for this campaign, so we highly recommend that you follow a few simple steps to keep your system safe:
keep your system updated and always install the latest updates available for the apps you use
back up your data constantly and frequently
don't keep any important piece of information on your computer
make sure you keep away from strange websites
do not open spam emails or emails you get from unknown senders
don't download or open attachments in those emails
use products that can detect and block recent ransomware / Cryptoware variants which, as you've seen, can end up on your system without you downloading anything on purpose.
Conclusion
Attackers move fast, they are resourceful, they understand market trends and are able to capitalize on Zero Days and other vulnerabilities that plague victims' PCs, no matter where they are in the world. Not even a month has passed since we announced the advent of CryptoWall 4.0 and its improved communication and capabilities and it's already being used in campaigns. Cyber criminals have a way of rapidly adopting new strains of malware that prove to be more effective and more productive in terms of return on investment. Cyber security basics are still a great way to keep safe from ransomware and campaigns such as this one, but Internet users also need to find the security products that are capable of identifying these threats and blocking them before they reach the system. It's an ongoing battle, but there's no way to avoid it unless you want to stop using the Internet altogether.