Ralph Renna Is Joining Heimdal™ Security's Executive All-Star Team as USA Sales Director
More on Ralph Renna and the Heimdal™ Security USA Branch
LAST UPDATED ON
SEPTEMBER 4, 2020
Copenhagen – September 4th, 2020 – Heimdal™ Security (HEIMDAL) today announced its executive team is thrilled to include Ralph Renna. To professionals across the industry, his name does more than just ring a bell. Ralph Renna will coordinate North American activity as USA Sales Director.
The rest of the Heimdal™ Security team is thrilled to have Ralph on board and are looking forward to all the further expansion and mutual growth this move will bring.
Ralph Renna, Heimdal™ Security USA Sales Director: "The US Market has opened up to our unique line of preventive security products with great enthusiasm. It's a great time to be part of Heimdal™'s exciting journey; we are scaling up our business, our integrations and our share of the market like never before. I am excited to put my network of security business contacts and my previous experience with building and driving up the sales team to ramp up Heimdal™'s US market activity."
Morten Kjaersgaard, Heimdal™ Security CEO: "We are currently at an unprecedented height of extreme market growth across all key regions – USA, UK, DACH, Nordics, Middle East, Latin America and across the world as a whole. Fueling our growth, besides the focus on continuous technological innovation, is the amazing talent we attract and retain. Ralph Renna is a key player in the USA market who will prove to be invaluable to the Heimdal™ journey."
You can find more info below about the experience and valuable professional insight of our new Heimdal™ Director, as well as a few personal details to get to know him better.
Who Is Ralph Renna?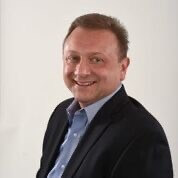 Raised in New York, Ralph Renna graduated from St. John's University, The Peter J. Tobin College of Business with a degree in Business Management. Beginning his career at ADP he quickly realized that Sales was the path he wanted to take. After moving into the technology sector in 1996 he started his successful sales and sales management journey winning multiple awards for exceeding quota and achieving President Club status on multiple occasions throughout the years.  In 2006, he decided it was time for his next challenge.
Ralph co-founded and personally funded a new startup, Avantias Inc. He grew this company from the ground up and sold it to Capgemini in 2012.  This is when he realized his passion for building successful teams and companies.  Moving to North Texas in 2015 he joined SPLUNK and enjoyed a great company with great culture until he saw an opportunity to build another sales team at Tanium. Within a year he helped to grow a team of 6 sales reps to a team of 35 and met a lot of great people along the way. Now as part of Heimdal Security, Ralph is excited to join an incredible company leading the way in the Americas to drive the growth of the company with the best security technology on the market.
A resident of North Texas, Ralph loves spending time with family and friends.  In his spare time, he enjoys watching his favorite NHL teams and Traveling to see new places and experience different cultures.  He has two children, a daughter that just graduated with a Master's degree in Education and a son that is currently enrolled in college earning his business degree.
About Heimdal™ Security:
Heimdal™ Security is a strongly emerging cybersecurity provider established in 2014 in Copenhagen, currently spanning offices across the world. With a spectacular year-over-year growth and an impressive ahead-of-the-curve approach to threatscape trends, Heimdal™ Security is the go-to solution for unified, intelligent cybersecurity made easy. In March 2020, Heimdal™ Security was acquired by Marlin Equity Partners, fueling its networks of growth and distribution even further.