Ragnar Locker Ransomware Hits Electronics Maker ADATA
The Threat Actors Claim They Have Stolen 1.5TB Of Sensitive Data from the Company's Network Before Deploying the Ransomware Payloads.
LAST UPDATED ON
JUNE 9, 2021
Popular Taiwanese electronics maker ADATA was hit by a ransomware group last month, which led to the takedown of affected systems offline for the containment of the infection.
Although the systems were restored and are now running as usual, the ransomware gang responsible for the attack – identified as Ragnar Locker, has released screenshots of the stolen information on its website threatening to leak 1.5TB of data.
Since they could degrade their value, most companies don't report the cyberattacks they face. However, once the threat actor behind the incident takes credit for the attack, they usually have no other choice but to reveal the breach.
This is also the case of Taiwanese electronics manufacturer ADATA. The company's most popular products consist of DRAM modules, USB Flash drives, hard disk drives, solid-state drives, memory cards, and mobile accessories.
ADATA has revealed to BleepingComputer that it was the victim of a ransomware attack on May 23rd, 2021, which resulted in the takedown of some of the affected systems offline. After the incident, the company has upgraded its IT security systems and tried recovering from backups.
We are determined to devote ourselves making the system protected than ever, and yes, this will be our endless practice while the company is moving forward to its future growth and achievements.
ADATA claims that no business operations have been affected by this incident and can run their services close to normal now.
Although the Ragnar Locker Ransomware group shared no sensitive information, it claims to have stolen about 1.5TB of data from the company, with images of folders and files shared as proof.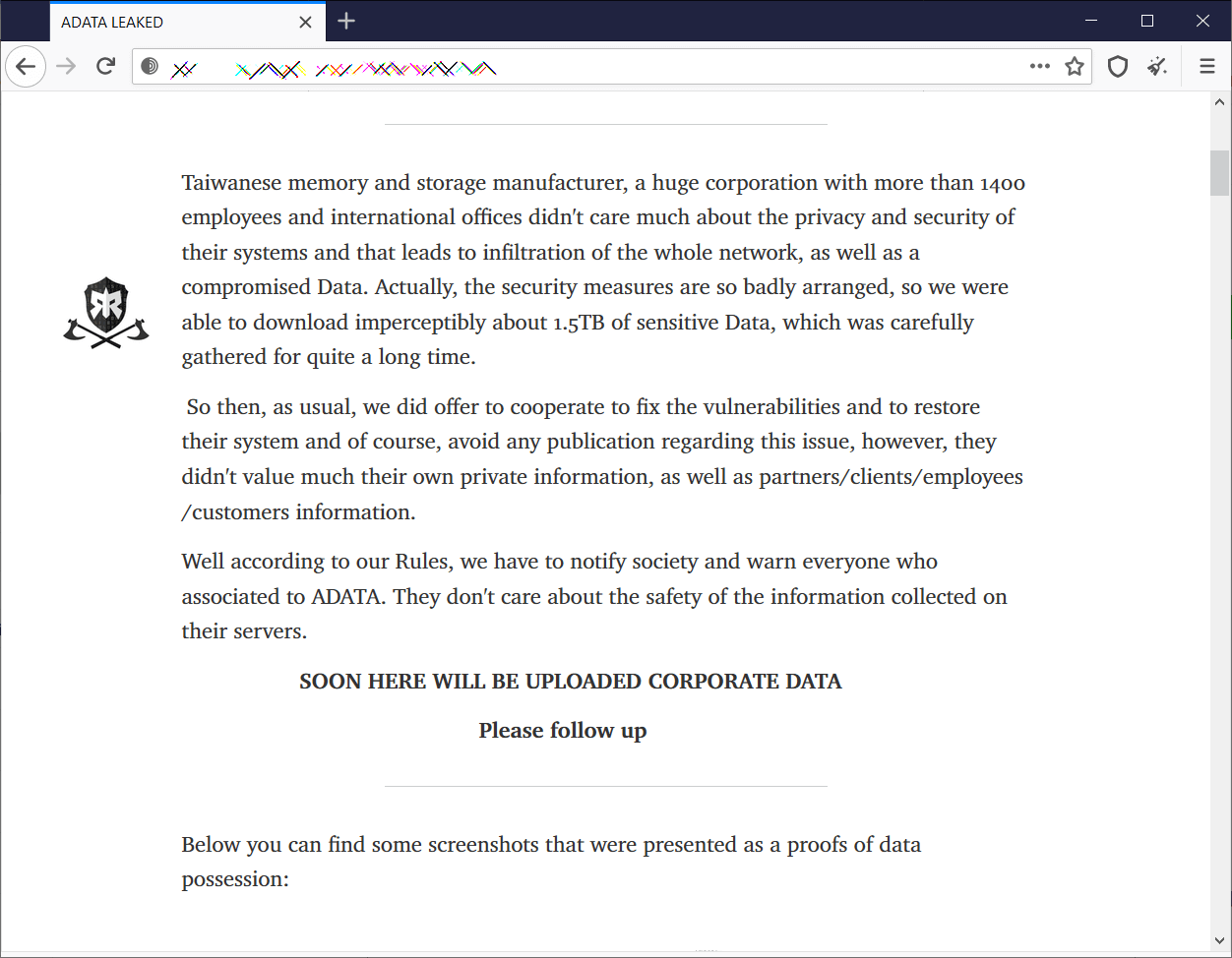 Image Source: BleepingComputer
According to the threat actors, the stolen data could contain information regarding ADATA's confidential files, schematics, financial data, Gitlab and SVN source code, legal documents, employee information, NDAs, and work folders.
Ragnar Locker's activity was first observed in attacks against several targets in late December 2019.
Two months ago, Japanese video game developer and publisher Capcom revealed it had suffered a security breach in its corporate networks in November 2020. Ragnar Locker stated that they had stolen 1TB of Capcom sensitive data and demanded a ransom of $11 million in exchange for not publishing the information and offering a decryption tool.
The company's final assessment regarding the data breach is that 15,649 individuals have been impacted, meaning that 766 fewer people were affected than initially announced in January 2021.
The leaked information did not include payment card details, only corporate and personal data that includes names, addresses, phone numbers, and email addresses.
So far, ADATA did not provide information on any ransom demands.