Mark Wrighton Appointed as Chief Revenue Officer for Heimdal™ Security
LAST UPDATED ON
JUNE 20, 2022
COPENHAGEN, June 20th, 2022 – Heimdal™ Security (HEIMDAL) announced a new addition to its executive team. Following a period of significant growth, the company has landed Mark Wrighton as Chief Revenue Officer. Mark will lead the sales, success, and support teams to foster deeper relationships with customers, as Heimdal™ continues its upmarket trajectory.
The appointment of Mark Wrighton, who will report to CEO Morten Kjaersgaard, is another step in growing the footprint of Heimdal™ Security. Based in London, UK, Mark will help Heimdal™ capitalize on the momentum it has built up in the European market, as well as the development of global accounts and strategic partnerships.
I'm delighted to welcome our new Chief Revenue Officer, Mark Wrighton. I'm sure he'll play a key role in keeping Heimdal™ on the cutting edge of the cybersecurity market, fueling our growth target of 55%, and my ambition to push that to 100% in the coming years. He has a strong background as a software executive, so he will be a valuable team member as we grow. Looking forward to seeing his evolution in leading Heimdal™'s efforts to stay ahead of the game!
– Morten Kjaersgaard, CEO Heimdal™ Security
Who Is Mark Wrighton?
Mark comes to Heimdal™ with nearly 20 years of experience leading large teams and driving growth across all customer segments and deal sizes.
He is an experienced software executive with a strategic focus on scaling revenue / go-to-market functions. Prior to Heimdal™, he was Chief Executive Officer of private equity-owned Huddle (acquired by Ideagen Plc in December 2020), and previously held notable management positions within high growth, VC-backed companies including BrightEdge and Impact.com.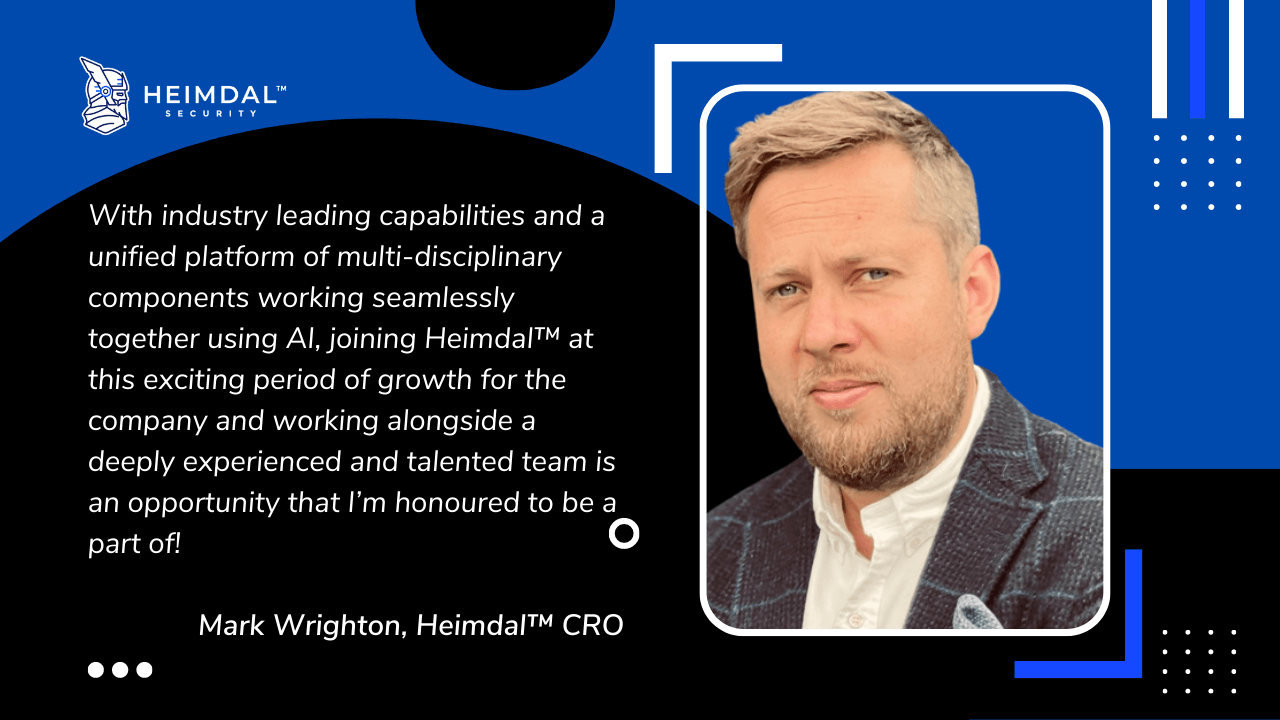 Everyone at Heimdal™ is delighted to have Mark onboard, and we're looking forward to working together and continue expanding. We are convinced that our dynamic team will reach unprecedented heights thanks to his exceptional skills and expertise.
About Heimdal™ Security
Founded in 2014 in Copenhagen, Denmark, Heimdal™ is a leading European provider of cloud-based cybersecurity solutions. The company offers a multi-layered security suite that combines threat prevention, patch and asset management, endpoint rights management, and antivirus and e-mail security which together secure customers against cyberattacks and keep critical information and intellectual property safe. Heimdal™ has been recognized as a thought leader in the industry and has won multiple international awards both for its solutions and for its educational content creation.
Heimdal™'s solutions, effectiveness, convenience, and very competitive pricing enable organizations to simplify their IT infrastructure, minimize risks and boost productivity, allowing them to replace up to 7 vendors with just 1 and focus on what they do best – their businesses. Companies across many sectors can use Heimdal™'s technology to simplify IT operations, helping drive higher efficiency and automation, and become safe in the face of cyber threats.
Currently, Heimdal™'s cybersecurity solutions are deployed in more than 45 countries and supported regionally from offices in 15+ countries, by 175+ highly qualified specialists. Heimdal™ is ISAE 3000 certified and secures more than 3 million endpoints for over 11,000 companies. Heimdal™ supports its partners without concessions on the basis of predictability and scalability. The common goal is to create a sustainable ecosystem and a strategic partnership.