Macmillan Attacked with Ransomware
The Corporation Shut Down Its Network and Offices to Recuperate.
LAST UPDATED ON
JULY 1, 2022
Macmillan Publishers is a worldwide trade publishing firm that operates in over 70 countries and has imprints in a number of different nations across the world, including the United States of America, Germany, the United Kingdom, Australia, South Africa, and India. Holtzbrinck Publishing Group is a multinational family-owned media corporation with its headquarters in Stuttgart, Germany. Macmillan is a branch of Holtzbrinck Publishing Group.
What Happened?
Macmillan was hit by a security breach that looks to have been a ransomware assault. As a result, the company was forced to shut down its network and offices while it recovered.
Macmillan has shut down its servers for the day following an unspecified "security incident" on Saturday. The company said the shutdown would last for a day and that it would not be able to process, receive, place, or ship orders. The company said it hoped to have resolved the incident by the end of the day, and will offer an update tomorrow before 10 a.m. ET.
It was stated that the assault took place during the weekend, on Saturday, June 25th, and the corporation responded by turning down all of its information technology systems in an effort to stop the attack from spreading. Since then, the editors at Macmillan have shown an exceptional degree of transparency about the security breach.
Will provide you an update no later than Wednesday, June 29, 2022. We are sorry these circumstances continue and are working as quickly as possible to resolve the situation.
They have informed Macmillan's representatives and customers that they are not being ignored, but that they have lost access to their systems, emails, and files.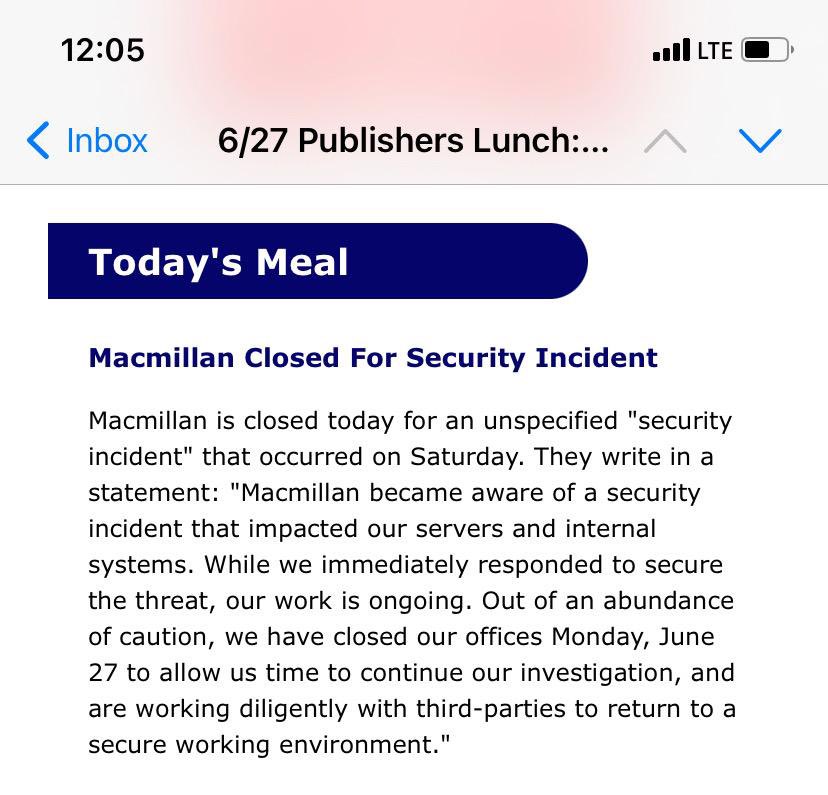 It is still unknown which ransomware group is responsible for the assault, and it is also unknown whether or not any data was taken. You can find out more on how to mitigate ransomware attacks in Cezarina's article.
If you liked this article, follow us on LinkedIn, Twitter, Facebook, Youtube, and Instagram for more cybersecurity news and topics.