AlphaBay Darknet Market Rises from the Dead
The AlphaBay Dark Web Market Has Come Back to Life After It Was Relaunched Over the Weekend.
LAST UPDATED ON
AUGUST 13, 2021
The administrator that relaunched the dark web market plans to set up a platform that can be used for darknet markets that want to have shops while remaining anonymous.
Some History on AlphaBay
AlphaBay darknet market was launched in 2014 and became the largest darknet market, until law enforcement managed to take it down on July 5 back in 2017.
During the police operation, the police arrested Alexander Cazes, a Canadian citizen that was using the alias Alpha02/Admin and was one of the two AlphaBay administrators.
DeSnake was the nickname of the other partner that was responsible for the security of the market and was never caught by the police.
DeSnake recently announced on a dark web forum that the AlphaBay market reopened and was ready for business, as he provides their original public PGP key used in the heydays of the illegal market to prove the claims, in this manner allowing anyone to verify the identity on public PGP keyservers.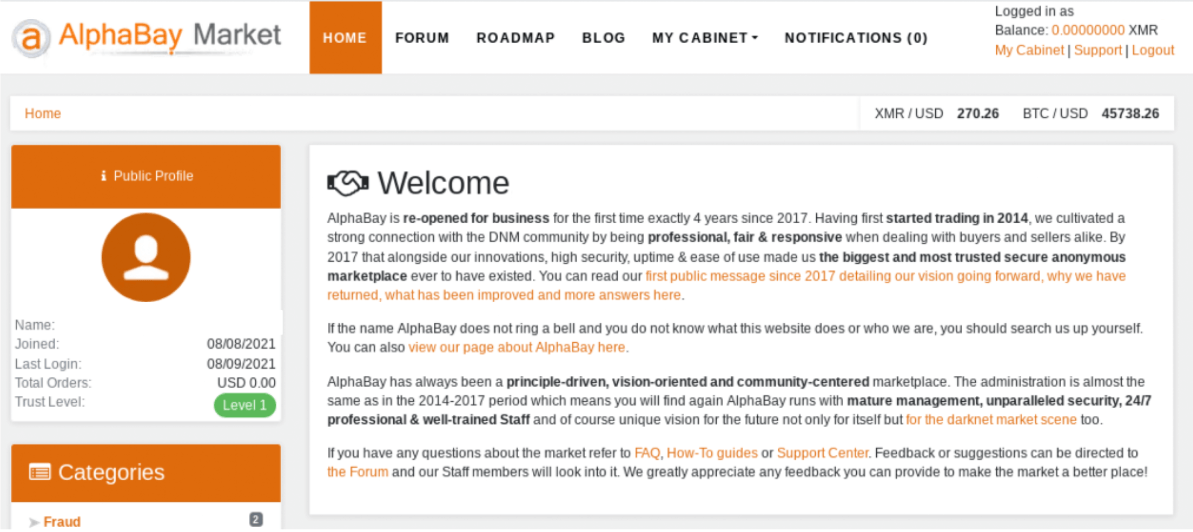 A darknet user confirmed that the DeSnake's was part of the original AlphaBay tech staff, and another one confirmed the admin's identity after having a private conversation on "things that only he knew as a staff member of AlphaBay."
A concern is that DeSnake may have been relaunching this project from a compromised position, as he may be following instructions received from law enforcement trying to trap vendors of illegal products.
DeSnake explained they want to set new standards to be used in a sustainable model and build a "professionally-run, anonymous, secure marketplace", with the vision becoming bigger than this in the future.
The admin aims to develop an autonomous and anonymous Decentralized Market Network where anyone can set up a marketplace, that supposedly would become the Amazon of darknet markets.
According to DeSnake, AlphaBay was built to last by using secure and audited code, bulletproof servers, and safeguards against disruptions caused by hardware failure, police raids, or seizures, as the admin advertised as well an automated system called AlphaGuard created in a way in which it "assures users/vendors can access their wallet funds (including escrow) at any time on I2P/Tor."
The AlphaBay marketplace also has in place an Automatic Dispute Solver, in this way aiming to solve the problems between buyers and sellers without the intervention of a moderator, as well as a set of rules that will help to avoid drawing unnecessary attention from law enforcement:
NO harming others (hitman service etc.)
NO guns/guns discussions (even for self-defense)
NO erotica/porn of any sorts (logins for major sites are okay)
NO fentanyl or fentanyl-laced/based substances
NO Covid-19 vaccines of any sorts
NO doxing or threats of doxing
NO any Russia/Belarus/Kazakhstan/Armenia/Kyrgyzstan-related activity (people, organizations, governments) or citizens data
NO ransomware selling, recruiting for access to deploy ransomware or ransomware discussions
AlphaBay uses at this time only Monero cryptocurrency and has only two featured listings, both of them for drugs.
AlphaBay served over 200 000 users and 40 000 vendors, as it was hosting more than 250,000 listings for drugs and toxic chemicals. Aside from these listings on the marketplace could also be found stolen and fake identification documents, malware, hacking tools, firearms, and even fraudulent services.